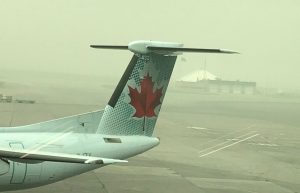 As of November 2022, there are no COVID-related travel restrictions when traveling to or from Canada.
Since March 2020, Canada has experienced different closures, travel restrictions, and processing changes due to COVID-19. More specifically, to stop the spread of the virus, travel restrictions have been put into place and altered a few times. Canadian officials are doing what they can to learn more about the virus and new variants to make travel adjustments accordingly. If you are interested in traveling to Canada, it's important to be up to date with these travel restrictions to ensure a successful entry!
Canada Travel Restriction Updates
June 2022 – Canada Suspends Vaccine Mandate for Domestic Travelers
According to recent news, the federal government will declare this week that vaccination obligations for internal travel on aircraft and railways and incoming overseas travel will be suspended.
Related Article: Vaccine Mandates Suspended for Domestic Travel in Canada
March 2022 – Ontario Lifts Mask Mandate
Beginning Monday, March 21st, those living in Ontario may choose whether to wear a mask or not as the province lifts its indoor mask mandate. Although experts have predicted a COVID-19 case increase in the near future, with the strains weakening and how the country is recovering from the pandemic, they mention it should be manageable.
Related Article: Ontario Lifts Mask Mandate In Most Indoor Settings
March 2022 – Canada Plans To Lift Testing Requirement for Fully-Vaccinated Travelers
It was announced that starting April 1, 2022, those who are fully vaccinated will not need a negative COVID-19 test to enter Canada. This change is for those traveling by air, land, and sea. As the country begins to get used to relaxed changes, Canadian officials announced that some fully-vaccinated travelers may be selected at random to take a COVID-19 but will not need to quarantine awaiting their results.
Related Article: COVID-19 Test Requirement Lifted for Full Vaccinated Travelers
February 2022 – PCR Test Not Required
Officials stated that by the end of the month, Canada will no longer need fully vaccinated travelers to do a pre-arrival COVID-19 PCR test. After February 29th, any fully vaccinated visitors to Canada will not be required to have a negative PCR test when entering Canada.
January 2022 – Border Restriction Adjustments
As the Canadian government continues to adjust its border measures due to the COVID-19 pandemic. As of January 15, 2022, Canada has limited travel restriction exemptions for unvaccinated persons to a small proportion of IRCC's clients. Some exemptions are included for unvaccinated new permanent residents, refugees, temporary foreign workers in agriculture or food-processing occupations, asylum claimants, and some minors under the age of 18 years old. Those who are unvaccinated, do not meet the definition of fully vaccinated, or do not meet an exemption will not be permitted to enter Canada.
Restrictions for Family Members
The exemption for immediate family members of temporary residents no longer exists, and there is an amended definition for extended family members of Canadian citizens, permanent residents, and those registered under the Indian Act.
December 2021 – New Travel Restriction Due to Omicron
Canadian officials were quick to announce a wide array of new travel restrictions following the discovery of the Omicron variant. As of Tuesday, foreign travelers who have been to Nigeria, Malawi, Egypt, and African countries in the last two weeks cannot enter Canada. These country travel bans, South Africa, Mozambique, Namibia, Zimbabwe, Botswana, Lesotho, and Eswatini, were first announced on Nov. 26.
Canadian citizens and permanent residents who have the right to return to Canada and who have traveled through any of the listed countries in the past two weeks will still be allowed to return, though they must be tested at the airport and would have to quarantine while awaiting their test results. According to Transport Minister Omar Alghabra, the COVID-19 testing requirement for those returning to Canada would still apply even to those who are fully vaccinated, and any tests administered in the 10 listed countries would not be accepted.
Related Article: Travels Restrictions Due to New Omicron Variant
September 2021 – Border Reopens to Fully-Vaccinated Travelers
Canada's border announced that travel has reopened to all fully vaccinated travelers with a few steps and things to get done when doing so. Fully vaccinated foreign nationals who meet the requirements are allowed to now travel to Canada. Travelers from countries outside of Canada who are not fully vaccinated are not able to enter Canada unless they already meet an exemption. Otherwise, they will be denied entry into Canada, may be denied boarding on flights to Canada, and/or face fine consequences.
Related Article: Canada Border Opens to Fully Vaccinated Travelers
Feburary 2021 – Travellers Required 3-Night Stay at Canadian Hotel
Canada added new travel measures to limit the spread of COVID-19 and its variants in Canada. The Canadian Government has kept the narrative that they strongly advise all Canadians to cancel or postpone any non-essential travel plans outside of Canada. Those who decide to travel by air outside of Canada for any non-essential reasons will face consequences when they return to Canada. For those traveling to Canada, there are new requirements for air travelers such as a required hotel stay.
Related Article: Travellers Required 3-Night Stay at Canadian Hotel
October 2020 – Canada Eases Restrictions on Family Members Traveling to Canada
The current border closure is still set to remain closed until October 21st for any non-essential travel but changes are coming to allow more family members into Canada on compassionate grounds. It was announced in early October 2020 that "compassion is needed in light of the worsening spread in some regions of Canada".
Related Article: Canada Eases Restrictions on Family Members Traveling to Canada
Canada/US Border Updates
July 2021 – US Extends Land Border Closure to Canadians
On Wednesday, July 21st, the United States government announced plans to extend the closure of land borders with both Canada and Mexico until August 21st. This will only be in effect to non-essential travelers such as tourists and visitors.
Related Article: US Extends Land Border Crossing Closure for Canadians
April 2021 – US Added Canada to 'Do Not Travel' List
On Tuesday, April 20th, the United States added a substantial amount of countries to the State Department's "Do Not Travel" list – Canada, Mexico, France, and Israel making just a small fraction. This is due to the increasingly high levels of COVID-19 amongst these countries.
Related Article: US Adds Canada to 'Do Not Travel' List
May 2020 – US/Canada Border Extension
Both Canada and the United States have settled on a plan to extend the ban on all non-essential travel between the two countries through June 21 in order to continue the fight against the Coronavirus pandemic. This was brought to the attention of each nation on Tuesday after Prime Minister Justin Trudeau spoke about the topic.
Related Article: Travel Restrictions Between Canada and US to be Extended
Specfic Country Travel Bans
September 2021 – Flights from India to Canada Resume
More than 5 months after the second wave of Covid-19 hit India, Canada has officially removed the restriction on direct passenger flights from India. On Monday, September 27th, Air Canada flew the first direct trip between the two nations, and Air India began operations on the same day to both Toronto and Vancouver. In order to enter Canada, passengers must show proof of a negative COVID-19 test result from a test done at Delhi Airport's Genestrings Laboratory within 18 hours before their departure. They will then have to present the test report with a QR code issued by this laboratory to the air operator before boarding their flight.
Related Article: Flights from India to Canada Resume
July 2021 – Canada Extends India Flight Ban
The first flight ban for any flights from India to Canada was imposed on April 22nd, 2021. Since then, there have been four extensions to the ban. Recently, the ban was set to expire on July 21st, 2021 but is now extended for another 30 days until August 21st, 2021. The original ban included Pakistan but flights from Pakistan was lifted last month on June 21st. The ban was originally imposed due to fears over the devastating second wave of COVID-19 in India and now there are additional fears of the Delta variant. On Monday, July 19th, the Health Canada organization said that the ban was "based on public health advice".
Related Article: Canada Extends India Flight Ban
April 2021 – Canada Temporarily Bans Flights from India and Pakistan
On Thursday, April 22, Canada had a virtual press conference to announce the latest change in travel to Canada. Due to the surge of COVID cases in India and Pakistan, Canada has decided to temporarily ban any flights coming in from those two countries. Transport Minister Omar Alghabra said that all commercial and private passengers from India and Pakistan will be stopped for 30 days.
Related Article: Canada Temporarily Bans Flights from India and Pakistan
Do You Need Immigration Help?
If so, Contact VisaPlace today. All our cases are handled by competent and experienced immigration professionals who are affiliated with VisaPlace. These professionals consist of lawyers, licensed paralegals, and consultants who work for VisaPlace Legal an award-winning immigration firm that adheres to the highest standards of client service.
Ready for the next step? Book your 1 on 1 consultation now or call us at 1-877-296-0874.
Have a Question related to your Immigration Needs?
Fill out the FREE Immigration Assessment form and get a response within 24 hours to see if you're eligible.
The assessment form should take approximately 5-7 minutes to complete. We will get back to you within one business day to let you know if we are able to help.