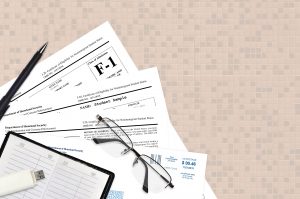 The number of international students in the United States hit an all-time high in 2019 and expected to progress in again once COVID-19 travel restrictions are dropped. Many individuals are actively looking into their visa options to study in the United States. Making the move is huge and it's important to complete your application completely and correctly. Aside from that, it's important to know how long it will take for your US student visa will take to process. There are two student visa options for academic students and vocational students and you'd be surprised how fast they process. Below you can learn more about processing times, your US student visa options, and how to apply!
Related Article: US Student Visas
US Student Visa Processing Time
The US student visas are normally one of the fastest visas to process. In fact, sometimes your study permit is processed directly after your immigration interview which is the last step of the application process. By the end of the interview, the consular officer should tell you whether or not your application was approved. Your student visa in the United States will on average take 3 days to a few weeks long.
Learn more about US Visa Processing Times in 2022.
Can I Get Premium Processing?
Unfortunately, there isn't premium processing available for student visas in the United States as it is only for work-related visas. Luckily, the processing time isn't long at all!
International Student Visa Options
F-1 Visa
The F-1 visa also known as the "Academic Student" visa is for individuals who plan to study at an academic institution (including accredited colleges, universities, seminaries, conservatories, and academic high school and elementary schools) or a language training program. To qualify, the program in which you are enrolled must culminate in the receipt of a degree, diploma, or certificate and the school must be authorized by the US government to accept international students.
M-1 Visa
An M-1 Visa or "Vocational Visa" is for international students who are enrolled in vocational and non-academic studies in the US. This includes cooking classes, language programs, flight school, cosmetology or mechanical education, and other programs that come under "vocational study".
How to Apply
When applying for a US student visa, you must:
Apply and be accepted into a SEVP (Student and Exchange Visitor Program) approved school
Determine the best US study visa for you based on qualifications and apply
Complete student visa application and schedule your immigration interview
It's vital to apply far enough in advance to your school's start date, so that you receive your visa in time to begin your studies. While your visa may be issued up to 120 days prior to the start of the academic year, as a new student you will not be permitted to enter the US more than 30 days prior to your start date. Continuing students may enter at any time, as long as their visa is valid.
Do You Need Help Applying for Your Study Visa Application?
If so, Contact VisaPlace today. All our cases are handled by competent and experienced immigration professionals who are affiliated with VisaPlace. These professionals consist of lawyers, licensed paralegals, and consultants who work for VisaPlace Legal an award-winning immigration firm that adheres to the highest standards of client service.
Ready for the next step? Book your 1 on 1 consultation now or call us at 1-888-317-5770.
Have a Question related to your Immigration Needs?
Fill out the FREE Immigration Assessment form and get a response within 24 hours to see if you're eligible.
The assessment form should take approximately 5-7 minutes to complete. We will get back to you within one business day to let you know if we are able to help.