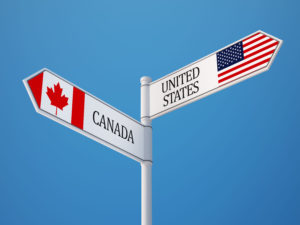 Note: This article may be out of date and travel restrictions may have changed. Click here to explore the most recent updates and travel restrictions in the United States or Canada!
Both Canada and the United States have settled on a plan to extend the ban on all non-essential travel between the two countries through June 21 in order to continue the fight against the Coronavirus pandemic. This was brought to each nation's attention on Tuesday after Prime Minister Justin Trudeau spoke about the topic.
The US has more confirmed cases and deaths from COVID-19 than any country in the world, though its per capita numbers are well below many other nations. Trudeau claims the Canada-US border is a source of vulnerability when it comes to the Coronavirus, which is why he is pushing for another 30 day extension.
"This will keep people in both of our countries safe," he said.
The US President, Donald Trump claims that the US and Canada are doing well in handling the pandemic, but many Canadians are worried about a reopening.
Just like when the original restrictions took place in March, essential cross-border workers like healthcare professionals, airline crews and truck drivers are still permitted to cross.
Americans who are returning to America and Canadians who are returning to Canada are also exempted from the border closure.
VisaPlace and Government Application Processing Still Open!
If you are interested in immigration to Canada or the United States, Contact VisaPlace today. All our cases are handled by competent and experienced immigration professionals who are affiliated with VisaPlace. These professionals consist of lawyers, licensed paralegals, and consultants who work for Niren and Associates an award-winning immigration firm that adheres to the highest standards of client service.
Ready for the next step? Book your 1 on 1 consultation now or call us at 1-888-317-5770.
Have a Question related to your Immigration Needs?
Click here to fill out the FREE Immigration Assessment form below and get a response within 24 hours to see if you're eligible.
The assessment form should take approximately 5-7 minutes to complete. We will get back to you within one business day to let you know if we are able to help.