Canada Permanent Residence
What is a Canadian Permanent Resident?
How Permanent Residency Works
How to Become a Canadian Permanent Resident
Determine if You're Eligible for a Permanent Resident status
Who Can Apply for Permanent Resident Status?
Thousands Receive Permanent Residence in Canada Annually
Canada is a land of opportunity and thousands and thousands of people get their PR card status in Canada every single year. If fact, Canada has been increasing the numbers of successful applicants to over 280,000 people per year, and you have equal opportunity just like those people.
As a permanent resident, you receive great opportunities and benefits in Canada. Having a PR card allows you to live, work and study in Canada on a permanent basis. The PR Card is normally issued for 5 years and can be renewed.
Subscribe to our YouTube Channel
As a permanent resident, you and your dependants have:
The Right to receive most social benefits that Canadian citizens receive, including health care coverage.
The Right to live, work or study anywhere in Canada.
The Right to apply for Canadian citizenship after a period of residence.
Protection under Canadian law and the Canadian Charter of Rights and Freedoms.

As a permanent resident, you also must pay taxes, and respect all Canadian laws at the federal, provincial and municipal levels.
Canadian Immigration Categories
How Do I Become a Permanent Resident of Canada?​
There are a number of ways to obtain a Canadian PR. You should think about it in terms of "immigration categories". Each category represents a legal means to obtain permanent resident status.
5 main categories for Canadian Permanent Residence:
The VisaPlace Express Entry Application Service will get you in to the pool quickly and with a profile that gives you the best chance of being selected. Find out if you are eligible for our Express Entry Service by clicking Get Started.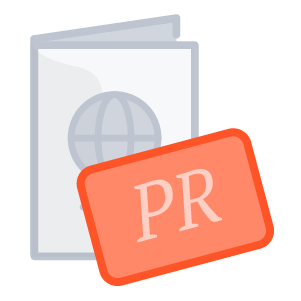 The Permanent Resident (PR) Card​
Your PR card can be used to show that you have permanent resident status in Canada. If you travel outside Canada, you will need to show your card and your passport when you come back on a commercial vehicle, like an airplane, boat, train or bus. PRs traveling outside Canada who do not have a valid PR card, or who are not carrying it, need to apply for a permanent resident travel document before returning to Canada by commercial vehicle.
What To Do Before You Apply for a PR
A PR card is usually issued for five years, but can sometimes be issued for one year instead. It is valid until the expiry date listed on the card. Canada only sends PR cards to addresses within the country. In some cases, you may have to pick up your card in person at one of the Canadian government offices.
If you find a mistake on your PR card you can ask for it to be reissued. Sometimes we shorten a name on the card if it is too long to fit. This is not a mistake. Find out how to fix a mistake on your PR card.
Losing Your Permanent Resident Status
You don't lose your permanent resident status when your PR card expires. You can only lose your status if you go through an official process.
How You Can Lose Your Permanent Resident Status:
What Are Your Obligations?
Citizenship and Immigration Canada requires that permanent residents of Canada hold a valid permanent resident card if you wish to travel outside of Canada. You will need to meet the permanent residency requirements and renew your permanent residence card every five years. Permanent residents who do not meet their residency obligations could lose permanent resident status.
Applying for Permanent Residence in Canada Can Be Difficult
The permanent residence application process can be very complex, time consuming and difficult. It is therefore essential that if you are considering applying for Canadian permanent residence, you get professional immigration help. The last thing you want is to be told your application is refused after months (or sometimes years) of waiting.
We have over 15 years of experience and have helped thousands and thousands of people immigrate to the Canada, and we are certain we can help you too! We look forward to helping you accomplish your immigration goals!