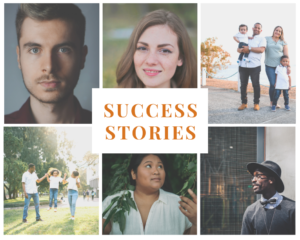 I've always dreamed of attending school in the US. I want to eventually graduate with a medical degree but I wanted to start my collegiate career at a school with a strong pre-medical program. Even though I knew that I wanted to study in the US, I didn't know how to achieve my dreams. I decided to apply for several US schools. I was really excited when I received three acceptances, including one from my dream school!  I contacted VisaPlace because I was hoping that they could help me understand the student visa application. They helped me apply for the F-1 visa and now I am finishing up my first year of college! I am really thankful to the VisaPlace team for helping me achieve my dreams.
Name: Huian
Date of Consultation: June 2017
Turnaround: 3 months
Type of Visa: F-1 US Student Visa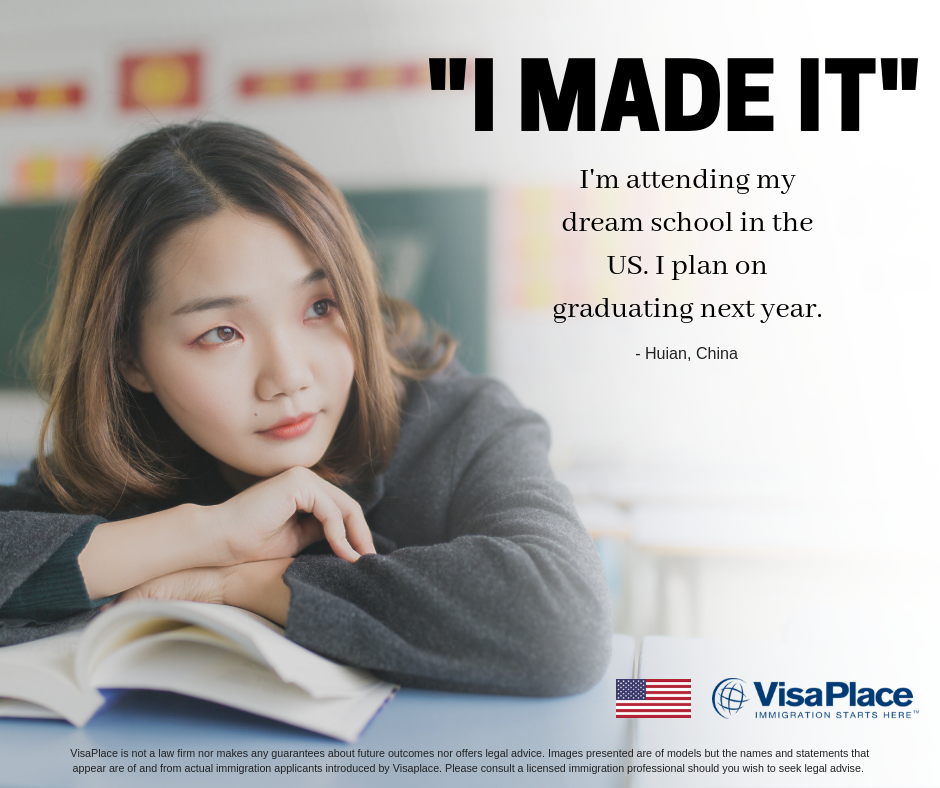 Background:
Huian was a talented student in China and wanted to pursue a medical degree in the United States. She applied for several universities that offered strong pre-medical programs and was accepted to three universities. She then decided which she wanted to attend before reaching out to VisaPlace for help with her application. The United States encourages talented students to study at its universities. Since Huian had already been accepted to a university, she needed help understanding her F-1 visa requirements and completing the application.
Immigration Situation:
In order for Huian to study in the United States, she would need an F-1 visa. Since Huian had already been accepted to her university, she had met the first F-1 requirement of being accepted at a US university. Her university would act as the sponsoring institution when she applied for her visa. Because Huian was living in a country where English was not the primary language spoken, she needed to demonstrate that she was proficient in English. Students are responsible for school fees and Huian would need to prove that she would be able to afford her institution. Once she completed her application, Huian would need to attend an interview at a nearby consulate to discuss her case.
Solution:
After receiving her acceptance, she had to register with the Student and Exchange Visitor Information System. After she registered, her university provided her with an I-20 form. Huian held on to this form and presented it to the interviewer at her visa interview. After receiving her I-20, Huian needed to apply for her F-1 visa at a US embassy or consulate in her home country. She filed form DS-160, after reviewing its contents with a VisaPlace employee, and paid the visa application fee. She took an English language test to prove her English skills. Huian and her parents worked with VisaPlace to demonstrate that they would be able to meet the financial requirements of Huian's school. Huian was nervous about her consulate interview and worked with a team member to practice her interview. This helped her to present herself as confident and prepared during her interview.
Outcome:
Huian was granted an F-1 visa and was able to travel to the US to attend her program. She has been studying in the US for a year and is excited to continue her studies over the next three years.
Are You Interested in Studying in the US?
If so, Contact VisaPlace today. All our cases are handled by competent and experienced immigration professionals who are affiliated with VisaPlace. These professionals consist of lawyers, licensed paralegals, and consultants who work for Niren and Associates an award-winning immigration firm that adheres to the highest standards of client service.
Ready for the next step? Book your 1 on 1 consultation now or call us at 1-888-317-5770.
Have a Question related to your Immigration Needs?
Click here to fill out the FREE Immigration Assessment form below and get a response within 24 hours to see if you're eligible.
The assessment form should take approximately 5-7 minutes to complete. We will get back to you within one business day to let you know if we are able to help