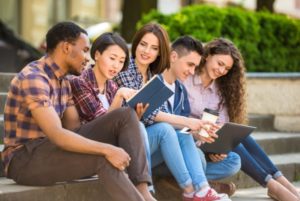 Every year, the number of international students in the US rises as more and more students choose the Unites States as the place they wanted to broaden their experience and continue their education. In fact, the US is now the most popular country for international students. Depending on where you're from and on the lifestyle in your home country, going to school in the U.S. can seem strange and confusing if you don't know what to expect before moving there. Here are some of the most frequently asked questions about international students in the United States.
Can International Students Work in the US?
Working part time while studying in USA on student visa: F1 visa holders cannot accept off-campus employment at anytime during the first year of their studies. Under certain circumstances, the U.S. Citizenship & Immigration Services (USCIS) may grant permission to accept off-campus employment after one year of study.
Can International Students Volunteer in the US?
You may volunteer while you study in the United States, but you must maintain your nonimmigrant student status by complying with Department of Homeland Security rules and regulations.
Can International Students Vote in the US?
Only American citizens can legally vote in elections for federal offices, like President or Congress. However, you may be able to vote on elections for student government on your campus.
Can International Students in the US Travel to Canada?
Yes, however, It is not advisable for international students on F or J visas to travel to Canada to obtain a new visa stamp from a United States Consulate. Only in your home country will you be able to apply for your visa stamp to reenter the US.
Can International Students Travel Inside the US Without an I-20 Form?
Yes, an F1 Visa holder can fly to anywhere inside the US without an I-20 form but there are several conditions in order to stay out of trouble. Make sure you have your driver's license or a Temporary Resident card with you. Always keep your student ID and passport with you. If you are traveling inside the US by road, you don't need those unless you are driving yourself. You will need a valid driver's license to travel on your own vehicle.
Can International Students Get Internships in the US?
For F1 visa students, if you are already in the States studying on an F-1 visa, you typically can take part in an unpaid internship or an internship on your campus without having to jump through hoops or fill out additional paperwork – though there may be limitations on when and how many hours you can work.
Can International Students in the US Recieve Scholarships?
The Fulbright Program supplies full scholarships in USA for international students who want to pursue a Master's or PhD degree. The scholarships can also be awarded for non-degree postgraduate studies. The grant covers tuition fee, textbooks, airfare, a living stipend, and health insurance.
Do You Want to Be an International Student in the US?
If so, Contact VisaPlace today. All our cases are handled by competent and experienced immigration professionals who are affiliated with VisaPlace. These professionals consist of lawyers, licensed paralegals and consultants who work for Niren and Associates an award winning immigration firm that adheres to the highest standards of client service.
Ready for the next step? Book your 1 on 1 consultation now or call us at 1-888-317-5770.
Have a Question related to your Immigration Needs?
Click here to fill out the FREE Immigration Assessment form below and get a response within 24 hours to see if you're eligible.
The assessment form should take approximately 5-7 minutes to complete. We will get back to you within one business day to let you know if we are able to help.