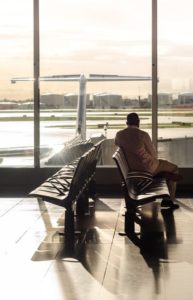 What Do I Do If I Was Denied Entry to the US?
Answer. Getting denied at the US border, whether a land border or the airport, is often a traumatic experience.  In addition to being told that you cannot to travel, US Customs usually finger prints and photographs you, making you feel very uncomfortable to say the least.
The most common reasons for being denied entry to the US is due to having a criminal record, in some cases very minor. Another reason is that there may have been some "US immigration history" of you being an "overstay" in the US in the past.  Finally, it may just be that US Customs does not believe that you are a "genuine visitor" and do not have sufficient ties to Canada or your home country to warrant admission to the US as a visitor.
What Can I Do After I've Been Denied Entry to the US?
Whatever the reason for being denied entry to the US, there are two solutions to deal with the problem. The first is what we call a US Entry Package or UEP.  A UEP is a prepared set of documents with a cover letter addressed to US Customs and Border Protection outlining your ties to Canada and your wishes to enter the US as a genuine visitor for a temporary duration. A UEP is prepared at our office and is given to you to present to US Customs. It serves to clearly show that you are indeed a legitimate traveler. The UEP is usually for people who are denied entry to the US on grounds that US Customs does not believe you are a genuine visitor to the US.
The other approach is to apply for a US Entry Waiver or I-192 Application. This is really for people who are "inadmissible" to the US for reasons of criminality, misrepresentation or US immigration violations such as overstays or unlawful working in the US. A US Waiver or I-192 application is a formal application that involves the completion of application forms and preparation of supporting documentation. The applicant also has to get RCMP fingerprints as well.
A US Waiver can take 6-8 months to process and the applicant has to wait until it is approved before attempting to enter the US. US Waivers can be granted for a 5 year period and during this time, the applicant can enter the US. After the  US Waiver expires, then the applicant has to apply for a renewal.
Why You Should Seek Help from an Immigration Lawyer
For over 15 years, we have helped countless individuals who thought they had no hope in entering the States due to a refused entry with their cases.  Our experience with immigration law has allowed us to help individuals enter the U.S., who otherwise would have not had the opportunity.