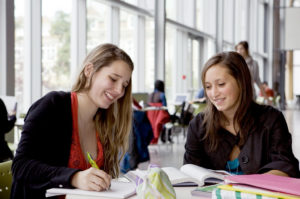 Many newcomers take advantage of higher education and choose to study in Canada. When thinking about making this huge move, there are a lot of factors to think about when choosing where to study in Canada. It's normal to have many questions when preparing for such a big move but don't worry, we can help you through some of those questions!
Small Town or Big City?
There are lots of pros and cons when it comes to choosing a small town or big city to study in. When settling down in a small town in Canada you can expect a cheaper cost of living, a safer environment, fewer distractions, and less congested population. In comparison, when studying in a big city you can expect greater career resources, diverse culture, easier access to transportation, and effortless socializing. When one is ready to study in Canada there are a few schools we recommend checking out!
Big City Canadian Universities
Small Town Canadian Universities
Cost of Living
Luckily when studying in Canada, the cost of living and tuition fees are usually less than other countries because most universities are government-funded. According to statistics, the average tuition fees for undergraduate international students are $29,714 CAD per year. Not only is tuition much more affordable, but accommodations and transportation that will benefit a new college student is also very inexpensive. These fees and expenses will vary by province so its something to check closely according to your specific situation.
Program Specialization
Growing up you have different ideas of what you'd like to be after attending high school and getting through your prerequisites in college. There are so many professions to choose from, it can be overwhelming for some. Thankfully certain universities make it easier for you to choose as they specifically target a certain profession at their school and offer program specializations. Whether you want to study to be a doctor, accountant, psychologist, entrepreneur, you name it, there is a program meant for you at one of Canada's universities. Using this program search tool can start you off in the right direction!
Language
Canada is so diverse and such a great hub for international students, even for those who don't know French or English. Canadian universities offer so many opportunities to expand your French and English as those are the predominant language spoken in Canada. If you are looking to study in Quebec, you may want to brush up on your French!
Size of School
Along with deciding if you'd like to study in a big city or small town, it goes along with determining if you rather study at a big or small university. Individuals who prefer a smaller school setting receive more one on one help with professors and staff which can come in handy when focused on your studies. Some even feel more comfortable at bigger universities with more students around and ultimately more resources to choose from. Amount of students at a university can range from 70k+ students to as little as approximately 800 students.
Planning to Study in Canada?
Once you are accepted into a Canadian educational institution, we can assist you in determining the best study permit for you. Our team of experts is dedicated to helping you achieve these goals. All our cases are handled by competent and experienced immigration professionals who are affiliated with VisaPlace. These professionals consist of lawyers, licensed paralegals, and consultants who work for Niren and Associates an award-winning immigration firm that adheres to the highest standards of client service.
Click here to book a consultation with an immigration professional or fill out our FREE assessment and we will get back to you within 24 hours.