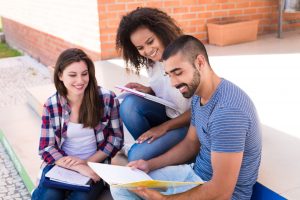 June 2023 Update: Beginning August 10, 2023, IRCC will accept 4 new English language tests for the Student Direct Stream.
Are you thinking about studying in Canada? You may be able to get your student permit quicker through the Student Direct Stream (SDS)! Designed by the IRCC in 2018, the Student Direct Stream was created as an expedited study permit application for international students who are interested in studying in Canada for higher education. Because of a high influx of student permit applications, this stream is specifically for applicants looking for a faster, more efficient processing time which on average is 20 calendar days. This steam is available to select countries and gives you options to bring your family along. Here is what you need to know about applying for the Student Direct Stream!
Who Can Apply for SDS?
There are a number of countries that qualify for the Student Direct Stream, these countries include:
China
India
Morocco
Pakistan
the Philippines
Senegal
Vietnam
Other requirements consist of:
having an acceptance letter from a post-secondary designated learning institution
live outside of Canada when you apply
have proof you have paid your tuition for your first year of study
have a Guaranteed Investment Certificate (GIC) of CAN$10,000
get a medical exam before you apply (if needed)
get a police certificate before you apply (if needed)
have your most recent secondary or post-secondary school transcript(s)
have a language test result that shows:
Bringing Your Spouse, Partner, or Dependents
Your spouse or common-law partner and dependent children may also be able to get faster processing on a
visitor visa
work permit
study permit
You must complete and submit their applications at the same time as your SDS application. If you don't, the USCIS will not process their applications faster. When you apply online, indicate that you have family members coming with you to Canada.
Interested in Student Direct Stream?
If you find yourself interested in the Student Direct Stream, contact VisaPlace today. All of our cases are handled by competent and experienced immigration professionals who are affiliated with VisaPlace. These professionals consist of lawyers, licensed paralegals, and consultants who work for Niren and Associates an award-winning immigration firm that adheres to the highest standards of client service.
Ready for the next step? Book your 1 on 1 consultation now or call us at 1-888-317-5770.
Have a Question related to your Immigration Needs?
Fill out the FREE Immigration Assessment form and get a response within 24 hours to see if you're eligible.
The assessment form should take approximately 5-7 minutes to complete. We will get back to you within one business day to let you know if we are able to help.