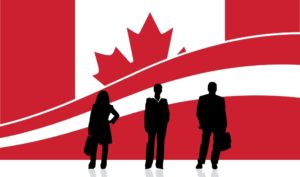 COVID-19 Update: At this time the IRCC is experiencing work permit application backlogging. Applicants who are working within essential occupations and industries will be prioritized. You can learn more about COVID-19 updates here!
Oftentimes, those who are citizens of the United States will be sparked with the interest in making a big move, and believe it or not, Canada is a great choice for many! Individuals may want to leave the US for various reasons whether temporary or permanent and obtaining a Canadian work permit is usually the first step. Many American want to know if they can get a Canadian work permit and were here to tell you how!
Working in Canada as an American
If you are a US citizen, you may be eligible to apply for a Canadian work permit or apply to work in Canada under the Federal Skilled Worker Program, which could eventually lead to Canada PR.
Getting a Canadian Work Permit as an American
Thanks to the USMCA (United States-Mexico-Canada Agreement), it is much easier for a United States citizen to obtain a work permit in Canada. However, there are still requirements that must be met. These requirements include:
You must have a job offer from a Canadian employer
The job offer must be listed in the USMCA agreement
You must be able to prove you are a United States citizen
You must be able to demonstrate that you have work experience and education that make you qualified for the job you've been offered.
You may also be required to obtain a positive LMO also called a Labour Market Opinion, which your employer will obtain on your behalf while giving you a copy for your work permit application. This assures the Canadian government that no Canadians are available to fill the job you've been offered.
Americans Applying Under the Skilled Worker Program
If you would like to work in Canada but would like to use your work experience as a pathway to permanent residency, you could also consider the Federal Skilled Worker Program. To be eligible for FSWP, you will need to have at least one year of full-time work experience in a management occupation, a professional and related occupation, a technical occupation, skilled trade, or a paraprofessional occupation. You will also need to determine your eligibility based on the program's point system, which measures specific criteria such as your language proficiency, work experience, age, plus more.
Are You Interested in Applying for a Canadian Work Permit?
If so, Contact VisaPlace today. All our cases are handled by competent and experienced immigration professionals who are part of the VisaPlace team. These professionals consist of lawyers, licensed paralegals, and consultants who work for VisaPlace Legal an award-winning immigration firm that adheres to the highest standards of client service.
Ready for the next step? Book your 1-on-1 consultation now or call us at 1-877-296-0874.
Have a Question related to your Immigration Needs?
Click here to fill out the FREE Immigration Assessment form below and get a response within 24 hours to see if you're eligible.
The assessment form should take approximately 5-7 minutes to complete. We will get back to you within one business day to let you know if we are able to help.