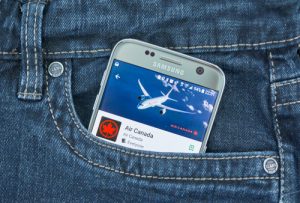 On Thursday, April 22 at 11:30pm Canada had a virtual press conference to announce the latest change in travel to Canada. Due to the surge of COVID cases in India and Pakistan, Canada has decided to temporarily ban any flights coming in from those two countries. Transport Minister Omar Alghabra said that all commercial and private passengers from India and Pakistan will be stopped for 30 days.
"As we've seen with our third wave, the COVID-19 pandemic can change rapidly," said Alghabra. "New variants can spread even faster than before and our health system is feeling even more pressure than ever before."

Transport Minister Omar Alghabra
Health Minister Patty Hajdu said that only 1.8% of all air travellers entering Canada have been found positive for COVID but travellers from India have made up 50% of the positive tests. Hajdu also said that travellers from Pakistan have had similar positive COVID results. The ultimate goal of limiting this travel is to keep Canada safe from the virus.
"We need to move quickly to stop the new variants from entering Canada and spreading further. We must secure our borders,"

Conserative Leader Erin O'Toole
How Can People Enter Canada from India and Pakistan
Although flights from India and Pakistan are currently stopped we do have an alternative.
The Transport Minister Omar Alghabra said that air passengers could arrive at a third country and produce a negative result on a COVID-19 test at their last point of departer before being allowed to enter Canada
Another option is to fly into the United States and travel across the border via vehicle but you will also be requested to provide a negative COVID-19 test.
As you can see not all travellers from India or Pakistan are banned! Only flights coming directly from those countries are temporarily stalled. There are alternative options for you to still enter Canada with the help of an immigration professional!
We Can Help You Enter Canada from India or Pakistan
As listed above, we are aware of the options that can allow individuals from India or Pakistan to enter Canada. Our immigration professionals are ready to help you!
All our cases are handled by competent and experienced immigration professionals who are affiliated with VisaPlace. These professionals consist of lawyers, licensed paralegals, and consultants who work for VisaPlace Legal, an award-winning immigration firm that adheres to the highest standards of client service.
Ready for the next step? Book your 1 on 1 consultation now or call us at 1-888-317-5770.
Have a Question related to your Immigration Needs?
Fill out the FREE Immigration Assessment form and get a response within 24 hours to see if you're eligible.
The assessment form should take approximately 5-7 minutes to complete. We will get back to you within one business day to let you know if we are able to help.