Studying Abroad: United States vs Canada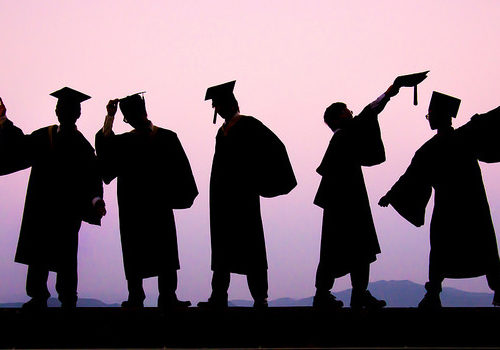 Pursing a college or post-graduate degree in a foreign country is an excellent way to expand your horizons. It provides you with a new look at a country and the opportunity for studying at excellent schools. You will demonstrate that you are adaptable and able to thrive in a culture other than your own. This is an invaluable skill in today's rapidly globalizing society. If you are considering pursuing an academic career over seas, choosing the right educational path for you can seem overwhelming. The United States and Canada both offer programs for international students to enter the country. Both nations follow the same basic educational structure starting with an undergraduate degree followed by a masters and finally a PHD. Each step on the educational rung is an opportunity for a curious student to pursue a degree. Although there are similarities between the two nations, they differ in fundamental ways when it comes to studying there as an international student.
Reasons to Consider Studying in Canada
In recent years, Canada has seen an upswing in the percentage of international students studying at their universities. There are several factors that come into play with this.
Caliber of the Universities in Canada
Canada boasts three universities that are ranked among the top 100 in the world: University of Toronto, University of British Columbia, and McGill University. Degrees from Canadian universities are recognized internationally as being equivalent to degrees earned in the United States. Many of the top schools are located in the county's thriving cities. Cities like Vancouver, Toronto, Quebec and Alberta offer students unique access to excellent cultural institutions. This access allows you to supplement your coursework and take a break from studying with art, theater and music.
Cost of University Education
Canada offers relatively inexpensive tuition compared to the United States. Additionally, the cost of living in many Canadian cities is lower than living in America or the UK. International students also have the ability to apply for financial aid in the forms of: scholarships, loans and bursaries.
Ease of Immigration after Graduation
Canada offers graduates of certain degrees the option to apply for a Post-Graduation Work Permit (PGWP). This work permit allows you to work in Canada after graduation. It also qualifies you for permanent residency through the Canadian Experience Class and the Federal Skilled Worker program. If you are not eligible for the PGWP, you may still be able to work in Canada using another type of permit after you finish studying.
Reasons to Consider Studying in the United States
The United States has been a popular destination for international students. It offers students unique educational experiences.
Caliber of the Universities in the US
The United States' universities are world renowned. Schools like Columbia, MIT, Stanford and Harvard bring to mind academic excellence. The U.S. also places an emphasis on a liberal arts education which means that undergraduate students are exposed to other academic areas beyond their chosen major. This flexibility in studying is a main characteristic of the American education system. This training is invaluable in the work place because it creates well rounded individuals. Additionally, schools in the United States are located in everything from small towns to big cities. This means there is a school environment for everyone.
Leading Research Universities
Many U.S. universities are research oriented and provide valuable hands on learning. Technology schools offer hands on learning to students and access to cutting edge research. For the STEM oriented students, this kind of practical studying can make a huge difference in their employment prospects.
Extracurricular Development
Universities in the U.S. are committed to developing their students outside the classroom. As a result, there are numerous social, academic, sport and professional organizations on each campus. This helps give students a holistic experience and prepares them to be valuable members of the community.
President Trump and Concern About Changing Immigration Laws
Immigration reform has been a key component of the changes proposed under President Trump's administration. Recently, the U.S Citizenship and Immigration Services (USCIS) announced a policy change that would go into effect on August 9th, 2018. This policy deals with the unlawful presence of students on American soil. After this date, anyone who stays past the date on their visa will immediately begin accruing unlawful presence in the U.S. which could lead to a 10 year re-entry ban. Students must be out of the country the day after their graduation, the day after they leave their course of study, or the day after their I-94 expires. Other delinquent activities are working more than 20 hours a week or attending another school, other than the one specified on their visa. STEM students are facing increasing scrutiny as the U.S. government is looking to protect sensitive technological innovations that may have future weapons capabilities. In particular, Chines students may not be able to apply for long-term visas and instead will be forced to apply yearly.
International students in the United States are facing an uncertain immigration situation. They may face difficulty immigrating to the U.S. after graduation which negates some of the benefits of studying there. Additionally, there is no guarantee that this immigration upheaval will settle in the near future.
Frequently Asked Questions- United States
Can I hold a job while studying in the United States? 
Yes, however, the process of finding work while a student can be challenging. F-1 students  are not allowed to work off-campus during their first academic year. After the first year, F-1 students may work off-campus. M-1 students may only work in practical training positions after they graduate. Additionally, employers may not have a firm understanding of your visa requirements or the challenges that come from being an international student. Find out  more about how to find a job as an international student.
What are the types of student visas for studying in the United States?
The U.S. offers two types of student visas: the F-1 student visa and the M-1 student visa. Find out more about the M-1 and F-1 visa.
Frequently Asked Questions- Canada
What happens if my student visa for studying in Canada is denied in 2018?
If you are refused a visa, the case officer will include a detailed letter explaining the reasoning behind the refusal.  You must carefully review this information and determine the ways that you can you improve your application. It might be beneficial to consult an immigration lawyer while completing revisions to your application. Find out more about Canada visa refusals.
What is the Student Direct Stream (SDS) Student Permit?
The SDS is replacing the Student Partners Programme (SPP) and aims to shorten the processing time for student visa applications. Additionally, it seeks to allow more students from India, China, Vietnam and the Philippines to study in Canada. Find out if you are eligible for the SDS program.
Which schools are considered Designate Learning Institutions for studying in Canada?
In order to study in Canada as an international student, you must attend a designated learning institution. Find out which schools are DLS.
How do I determine the cost of studying in Canada?
Determining the cost of tuition and living is an important aspect of choosing your program. Use the Step 1-2-3 tool on EduCanada to determine your educational costs.
Why Hire Us to Help You With Your Student Visa Forms
Studying in Canada or the US is an amazing experience for any student. Both countries has some of the highest standards of education in the world. If you want to ensure your best chances at getting an approval on your student visa application, then we recommend you consult with us before submitting. We have helped thousands and thousands of students successfully enter Canada and the United States on a study permit, and we can help you too! Free Online Immigration Assessment to see if you're eligible for a Student Visa
Sources:
http://www.educanada.ca/study-etudes/education_cost-cout_education.aspx?lang=eng
https://www.topuniversities.com/university-rankings/world-university-rankings/2019
https://www.forbes.com/sites/andyjsemotiuk/2018/06/13/raising-the-bar-on-international-students-new-uscis-policy-looks-to-target-college-students/#361c22d55fb2
http://www.educanada.ca/study-etudes/why-pourquoi.aspx?lang=eng
The content and comments of this blog are not legal advise and and may not be accurate or complete. If you require legal advice, contact a licensed legal practitioner directly. If you post on this blog, you assume full responsibility for disclosing your identity to the public and VisaPlace nor its affiliates are not responsible for protecting your privacy nor your identity concerning your participation in our blog and you assume any risks in participating.
Customer Reviews
I cannot thank VisaPlace enough for their help. I had an issue with my immigration work that I needed professional help with. The team did a stellar job in making my case and I am greatly indebted to them. I worked directly with Alicea. She was extremely professional and responsive! Even after building my case and submitting my application, she was always available to answer any questions or concerns I had for several months after. I highly recommend the team and would come back in future if I have to. Thank you!
Visaplace was able to get myself my Visa, as well as many of my employees. They made my dreams of living in the USA and starting a company come true. Their process is clean, simple, and affordable. Thank you to the whole team for your incredible work!
I just cannot praise this place enough, staff is extremely helpful, very knowledgeable, all my questions were answered elaborately and not once I was confused from the answer. They do their best to get back to you as quick as possible after you have asked a question, I can actually sit down and praise this place all day and still there will be a lot more left to praise about, Richard, Lisa, Alicea, Rania, Caroline, and everybody else, such a great staff! I am finally permanent resident! It was a long journey but patience and hard work with a good Immigration Law Firm is the key from my experience! I would strongly recommend this place, VisaPlace I thank you very much for making my dream come true, every penny spent was completely worth it.