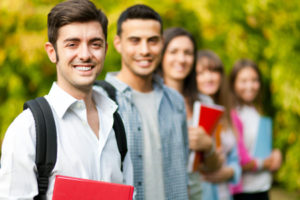 Canada is one of the number one countries to study higher education in which makes it very popular for international students. Many young adults and adults study abroad in Canada for the many opportunities they allow. VisaPlace receives a lot of questions pertaining to what can international students do while in their studying in Canada. International students have many opportunities to bring their family, work, and live in Canada while they're in Canada on a study permit. Here are some of the most frequently asked questions about international students in Canada.
Can International Students Change Colleges While in Canada?
Yes! If you are issued a study permit, it is on the basis of your acceptance into a Canadian school. However, if you are studying at the post-secondary level, you can change your school, program, field of study, or level of study without needing to apply for a new study permit. Once you're accepted into the program you want to transfer into, you just need to notify IRCC if you have changed schools.
Can International Students Work in Canada?
Yes, with some limitations. If you are an international student with full-time registration status and a valid Study Permit, you are eligible to work in Canada, with some conditions.
On-Campus Work
Off-Campus Work
Co-op Work Permit
Post-Graduation Work Permit
Work Permit for a Spouse or Common-Law Partner
Income Tax
Social Insurance Number
If you receive your study permit after June 1:
your study permit will indicate if you are able to work off campus. If so, you are allowed to work for up to 20 hours per week while:
your program is in session, and
full-time during scheduled breaks in the academic calendar.
I'm an International Student in Canada. Can I apply for Canadian permanent residence?
Yes. As an international student studying in Canada, you are considered a temporary resident. The Canadian government expects that you will leave Canada once you have completed your studies unless you apply for PR or a work permit. You can apply for PR through several programs including PNPs, Express Entry, or Family Sponsorship.
Can International Students in Canada Bring Their Children With Them?
Yes with the correct documentation. An applicant's dependent children may accompany him or her to Canada. However, an application for a Temporary Resident Visa (TRV) or Electronic Travel Authorization (eTA) may be required for the accompanying dependent.
Can I Sponsor My Spouse as an International Student in Canada?
Yes with the correct Canadian visa. Your spouse or common-law partner may apply for a Work Permit if you are a full-time student at an authorised institution and have a Study Permit.
Can I Bring My Family With Me to Canada If I'm an International Student?
Yes with some limitations. One of the greatest benefits of studying in Canada is that you are eligible to bring your family with you during your studies. This includes your spouse or common-law partner and any dependent children you may have.
During this time, your spouse or common-law partner is eligible for an open work permit, allowing them to seek employment anywhere in the country in almost any field. Also, you children are allowed to study in Canadian primary or secondary schools without the need of study permit.
Is It Possible to Become a Canadian Citizen While I'm in Canada Studying?
Eventually, first you will need to apply for Canadian Permanent Residence. If you want to make Canada your permanent home, there are a number of ways to apply. In most cases, you will not need to leave Canada.
Do You Want to Be an International Student in Canada?
If so, Contact VisaPlace today. All our cases are handled by competent and experienced immigration professionals who are affiliated with VisaPlace. These professionals consist of lawyers, licensed paralegals and consultants who work for Niren and Associates an award winning immigration firm that adheres to the highest standards of client service.
Ready for the next step? Book your 1 on 1 consultation now or call us at 1-888-317-5770.
Have a Question related to your Immigration Needs?
Click here to fill out the FREE Immigration Assessment form below and get a response within 24 hours to see if you're eligible.
The assessment form should take approximately 5-7 minutes to complete. We will get back to you within one business day to let you know if we are able to help.