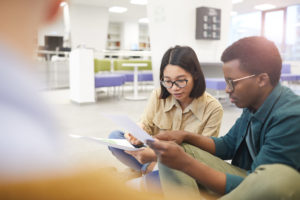 UPDATE July 14, 2020: The Trump administration has rescinded its policy that would bar international students who only take online courses from staying in the US. International Students in the US should not be worried about being deported for taking online classes due to COVID-19. If you are concerned about your status in the US contact a US Immigration Professional.
---
Did you know there are more than 1 million international students living and studying in the United States? As Coronavirus started affecting the nation, many universities quickly transitioned from in-person classes to online-only learning to avoid the possible spread of COVID-19. Immigration and Customs Enforcement (ICE) announced on Monday, July 6th that many of these international students may be impacted by this change.
ICE stated that international students who fall under specific categories "may not take a full online course load and remain in the United States" and "the U.S. Department of State will not issue visas to students enrolled in schools and/or programs that are fully online for the fall semester nor will U.S. Customs and Border Protection permit these students to enter the United States."
Sometimes immigrating to study to the US can be challenging due to strict policies, one of these policies includes prohibiting students to come and taker online-only courses. Although some may have the chance to transfer to a school that is offering in-person courses or hybrid schedule, this announcement leaves many international students and universities scrambling to find a solution.
Challenges to Law by Universities
Not only are students upset by this announcement, so are universities. Schools including Harvard, the University of California, and MIT have decided to sue the ICE to stop the new ruling last Wednesday afternoon.
Harvard and MIT stated "By all appearances, ICE's decision reflects an effort by the federal government to force universities to reopen in-person classes, which would require housing students in densely packed residential halls, notwithstanding the universities' judgment that it is neither safe nor educationally advisable to do so, and to force such a reopening when neither the students nor the universities have sufficient time to react to or address the additional risks to the health and safety of their communities"
These schools and students are actively fighting against the ruling and will continue so many students aren't forced to leave the United States.
Do You Need Immigration Assistance?
If you find yourself affected by this announcement and need legal assistance, contact VisaPlace today. All of our cases are handled by competent and experienced immigration professionals who are affiliated with VisaPlace. These professionals consist of lawyers, licensed paralegals, and consultants who work for Niren and Associates an award-winning immigration firm that adheres to the highest standards of client service.
Ready for the next step? Book your 1 on 1 consultation now or call us at 1-888-317-5770.
Have a Question related to your Immigration Needs?
Fill out the FREE Immigration Assessment form below and get a response within 24 hours to see if you're eligible.
The assessment form should take approximately 5-7 minutes to complete. We will get back to you within one business day to let you know if we are able to help.