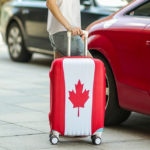 In this article, we will discuss:
Programs, Sponsorships, and Visas for Immigrating to Canada in 2024
Canada Immigration Levels Plan 2024-2026
Requirements for Immigrating to Canada
Most Frequently Asked Questions About Immigration to Canada
Canada aims to welcome over 1.4 million permanent residents from 2024-2026. There are many methods to take in order to immigrate to Canada in 2024, and we will explain the 5 easiest ways to do so in detail below. If you are interested in learning about every possible way to immigrate, visit our main Canadian Visa immigration page.
Immigration to Canada is not easy. There are many steps one has to take in order to successfully apply and get approved for Canadian immigration. Also, the process can take a number of months and in some cases a few years. But if you know what options are available, you can improve your chances of success and avoid "pitfalls", frustrations and delays. Here, you can learn how to move to Canada through permanent residence, working, visiting, and even studying in Canada.
How to Migrate to Canada: 5 Options for Migrating to Canada in 2024
1. Express Entry Program
Canadian Immigration Program that allows immigrants to live and work in Canada as skilled workers through Express Entry. The new system will allow Citizenship and Immigration Canada (CIC) to pro-actively assess, recruit, and select immigrants who are skilled and/or possess the relevant qualifications under federal economic immigration programs:
Federal Skilled Worker Program (FSWP)
The Federal Skilled Trades Program (FSTP)
The Canadian Experience Class (CEC)
The Express Entry program will also allow individual provinces and territories to use the system in order to recruit suitable candidates as part of the Provincial Nominee Programs so that labour market demands are met.
2. Family Class Sponsorship
Family Reunification remains a cornerstone of Canada's immigration policy. Families in Canada can sponsor their relatives to come to Canada on a permanent basis. In order to qualify to sponsor your relative, you have to be a Canadian citizen or permanent resident. Also who you can sponsor is: your spouse and children under the age of 22 (there are some exceptions to this). Sponsoring your parents or grandparents is no longer an option at this time. However, you can bring them to Canada under the Super Visa Category.
3. LMIA Work Visa
Many applicants for Canadian immigration first get Canadian job offers, apply for a work visa and then on that basis, immigrate to Canada. The LMIA involves securing a Canadian job offer, having the Canadian employer apply for an LMIA through Service Canada, and then the applicant applying for the work permit after the LMIA is approved. This is a very involved process but can lead to Canadian permanent residence.
4. The Provincial Nominee Programs (PNP)
The PNP route is becoming an increasingly popular way to immigrate to Canada. Canadian provinces such as Alberta, Ontario, British Columbia and others have developed their own immigration programs that often lead to a fast-track process. However, the PNP category generally requires that applicants reside in the respective Provinces after they arrive in Canada. Further, most PNPs require a job offer from a Canadian employer in order to qualify.
5. Canadian Investor Immigration
The Investor Category is designed for high net worth individuals who have owned or managed businesses overseas. By allowing experienced business people to invest in the Canadian economy, they are contributing to Canada's overall growth and prosperity. There are essentially two investor programs in Canada: The Federal Investor Program and the Quebec program. Both programs are somewhat similar and require that the applicants have a high net worth and make a large investment in an approved investment fund for a 5-year period. Investor immigrants can bring their spouses and children as dependents on their applications.
As of June 2014, applications still in the backlog of the federal Immigrant Investor Program and Entrepreneur Program were terminated. The Quebec Investor Program and Quebec Entrepreneur Program were not affected.
Canada Immigration Levels Plan 2024-2026
Canada each year plans to invite and accept thousands of individuals to become permanent residents. As you can see by the chart below, over 1 million permanent residents are being accepted to live in Canada.
| | |
| --- | --- |
| 2024 | 430,000 – 532,000 |
| 2025 | 442,000 – 550,000 |
| 2026 | 442,000 – 550,000 |
What Are the Requirements to Immigrate to Canada?
Each immigration program has its own set of basic qualifications. It is critical to confirm your eligibility before applying.
When you apply, the Canadian government will ask for several papers to verify your employment experience, education, identification, and criminal and medical history. The sorts of documentation necessary vary depending on the program to which you are applying.
To decide the papers you will need, you must first establish which immigration program is suitable for you!
Are there other options for people to migrate to Canada?
There are other ways to obtain Canadian immigration such as the CEC category, Humanitarian and Compassionate application, Refugee Claims, as well as the Atlantic Immigration Pilot Program.
The Canadian Experience Class (CEC) is an immigration program that allows individuals who have worked in Canada for at least one year to immigrate permanently.
Humanitarian and Compassionate Applications, or "H&Cs," are Canadian permanent residence applications that are filed from within Canada. They are for people who do not have legal status in Canada but who have still made Canada their home.
Refugee Claims
Individuals can make an asylum claim in Canada at a port of entry or at an inland CBSA or Immigration, Refugees and Citizenship Canada (IRCC) office. They must demonstrate why they can not go back to their home country.
The Atlantic Immigration Pilot Program (AIP) works to recruit newcomers to the Atlantic provinces of New Brunswick, Nova Scotia, Prince Edward Island, and Newfoundland and Labrador. These provinces are able to fill labour gaps with immigrants who qualify with work experience.
Canada Immigration FAQs
How Much Money Do You Need to Immigrate to Canada?
The cost of immigrating to Canada typically amounts to approximately $2,300 CAD for an individual applicant and around $4,500 CAD for a couple. It's important to note that these figures do not encompass the settlement funds required, which can vary depending on family size, starting at roughly $13,000 CAD for a single applicant. For those applying through a provincial program, additional fees may apply. However, individuals with a Canadian job offer or those applying under the Canadian Experience Class are exempt from providing proof of settlement funds.
Who Processes Canada Visa Applications?
Citizenship, Immigration, and Refugees Canada promotes the entrance of immigrants, protects refugees, and provides programs to assist newcomers in settling in Canada. The IRCC also gives Canadians citizenship and issues travel papers (such as passports).
Is There an Age Limit to Immigrate to Canada?
There are no age restrictions for any Canadian immigration program. However, in most economic immigration categories, candidates aged 25 to 35 earn the highest points. This is not to say that older candidates cannot be chosen. Significant job experience, excellent language fluency, Canadian contacts, and advanced education may readily compensate for any points lost due to age in economic immigration.
Family sponsorship and humanitarian and refugee immigration to Canada do not employ a ranking system and have no age restrictions.
What Is the Fastest Way I Can Migrate to Canada?
Express Entry is the quickest way to immigrate to Canada. Most Express Entry applications are processed in six months or fewer.
What is a Canadian Permanent Resident?
A Canadian permanent resident is a citizen of another country who has been given permanent residency in Canada. A person with permanent resident status has the right to live and work anywhere in the United States. Permanent residents in Canada are entitled to several privileges, including access to healthcare and social services, the freedom to live, work, and study anywhere in Canada, and legal protection. Furthermore, after a set period of time as a permanent resident, permanent residents are entitled to seek to become Canadian citizens! Notably, permanent residents of Canada do not have the ability to vote in Canadian elections.
Is It Easy to Migrate to Canada?
With over 80 immigration channels, Canada offers a variety of possibilities for all sorts of candidates. Moving to a new nation, however, necessitates some work. Some immigration programs need more credentials and documentation than others. Using the services of a Canadian immigration lawyer can substantially aid in the entire immigration process.
For your application, Canadian immigration attorneys will be your point of contact with the government. They manage the filing of your application and advise you on which papers you need, which you should include, and which you should not supply.
What Types of Immigrants Are in Canada?
Here are the 4 most popular kinds of immigrants to Canada:
Economic immigrant
Immigrant sponsored by family
Refugee
Other immigrant
Is Canada Friendly to Immigrants?
Over the last half-century, Canada has earned a reputation for inviting immigrants and valuing cultural diversity. Foreign-born people account for roughly one-fifth of the Canadian population, one of the highest proportions among industrialized Western nations.
Is Canada Easy to Settle in After Immigrating?
Canada is a developed country with a stable government and economy. It has a culturally diverse atmosphere because students from all over the world choose Canada as a study-abroad destination. Canada has a study, work, and settlement program. As a result, students and workers who stay for a few years may qualify for permanent residency. If you would like to learn more about how to prepare yourself for moving to Canada, visit our page on settling in Canada.
Do I Need Work Experience to Immigrate to Canada?
No. Fortunately, there are a few immigration programs that allow people without work experience to move to Canada legally. Study permits and family sponsorships are examples of these. These enable you to establish roots in the country and seek employment and permanent residency.
Is There An Age Limit to Study in Canada?
No, there is no age limit to study in Canada. However, you must be at least 18 years old. Even though there is no age limit, if you are a minor, you must obtain a study permit.
Is It Expensive to Live in Canada?
Canada is widely regarded as one of the most costly places to live in the world, despite having one of the highest median incomes in the world. In fact, Canada's average salary is around $37,800, ranking among the top 20 in the world.
Are You Interested in Immigrating to Canada But Don't Know Where to Start?
If so, Contact VisaPlace today. All our cases are handled by competent and experienced immigration professionals who are affiliated with VisaPlace. These professionals consist of lawyers, licensed paralegals, and consultants who work for VisaPlace Legal an award-winning immigration firm that adheres to the highest standards of client service.
Have a Question related to your Immigration Needs?
Click here to fill out the FREE Immigration Assessment form below and get a response within 24 hours to see if you're eligible.
The assessment form should take approximately 5-7 minutes to complete. We will get back to you within one business day to let you know if we are able to help.