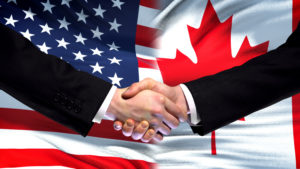 Good News! Although Trump has signed an Executive Order to suspend several US Work Visas until December 31, 2020, Canadians are NOT included.
If you are a Canadian you will not be affected during this suspension period. Why? Because you do not need a visa to enter the US, instead it is considered a 'Work Status'. Once you arrive at the Point of Entry you may apply for a work status allowing you to work in the US as a Canadian.
How to Enter the US as a Canadian and Then Get a Work Status
There is no one work status for Canadian citizens, in fact, there are several different types. For Canadians working in the US, there are specific US statuses for Canadian citizens.
There are several US work statuses for Canadians such as the:
Although the L-1 Visa is limited to foreign workers during the suspension they are allowed for Canadians due to the fact Canadians do not need a work "visa" to enter the US under these categories.
Step 1: Hire an Immigration Professional
You will want to hire a US immigration professional before entering the US so that you have valid representation. This can be one of the most important steps to help you enter and work in the US legally.
Step 2: Go to Point of Entry (POE)
Enter the US through the border or the airport depending on your travel plans. You will have legal representation previous to entering. At the POE you will apply for the L-1 or TN visa depending on your case and which status your immigration professional determined you for.
Step 3: Enter the US on Your US Work Visa
After applying at the Point of Entry and you are approved you will be able to enter the US and work legally!
Thankfully, Canadians will not be affected by Trump's Suspension on US Work Visas so book a consultation today to find out how to get started.