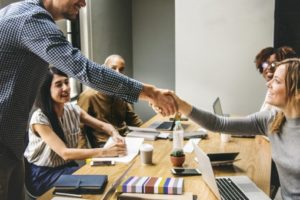 Canada's tech sector is currently experiencing a boom. Toronto, Montreal, and Vancouver are establishing themselves as leaders in technology like AI and clean tech. Canada has worked steadily to encourage tech talent. The Toronto/Kitchener/ Waterloo area is now known for its reputation in training young IT professionals. More US companies, like Google, Facebook and Amazon are opening offices in Canada. This offers talented workers the opportunity to work for large companies without moving to the US. Additionally, the IT industry has been named the fastest growing industry in Canada. The industry boasts competitive salaries with the average IT salary being around $80,000. In fact, the industry is expanding so rapidly that it has overtaken Silicon Valley in the US as the fastest growing IT sector. As far back as 2014, Canada has been identified as a viable alternative to the US for highly skilled tech workers. As the tech industry grows, Canadian companies are racing to fill jobs and finding that there are not enough candidates. Additionally, Canada's commitment to immigration means that these cities offer employers diverse workforces which in turn lead to creative tech solutions. The combination of strong governmental support and growing job opportunities makes Canada a great immigration choice for tech workers. 
Which Tech Sectors In Canada Are Hiring in 2020?
As the tech sector in Canada continues to grow exponentially, more and more workers are needed to fill in-demand jobs. The following eight jobs are thought to be highly sought after in 2020 based on data collected by Randstad, a consulting company focused on human resources.
Developer/ Programmer: Coding and programming skills are vital to many companies. Java, Python, and .net are skills that employers are currently looking for. Full-stack developers are in particular demand.
IT Project Manager: Managing projects is critical in the tech industry and people with PMP, PMI or agile certifications are valuable.
Quality Assurance Analyst: Quality assurance analysts are in charge of helping their employers protect themselves against risk by maintaining software.
Data Analyst: Many companies collect data and data analysts are tasked with understanding the collected data.
IT Business Analyst: Many companies are dependent on tech and software. Therefore, analysts are needed to ensure the company's systems are optimized.
Senior Software Engineer: Companies are interested in hiring candidates who are more advanced in their careers rather than hiring new graduates. This presents an opportunity for people already working to move to Canada.
Network Administrator: This job involves managing a company's network to ensure the smooth running of a site and is becoming increasingly more important.
Technical Support Specialist: An ability to combine customer service and strong technical skills is needed to help customers have the best possible experience with your company.
Even if you do not already have work experience in one of the above jobs, you can still look for work in Canada's tech sector. In particular, if you have tech skills, you will have your pick of employment in some of Canada's largest cities. 
What are the Best Tech Skills to Have in 2020? (H3)
The tech industry relies heavily on coding skills. Learning one of the popular coding languages is a great way to make your application stand out to tech companies. According to Randstad, the following languages are currently in demand:
Java
Linux
Javascript
SQL
Python
C#/ .net
C/ C++
Agile (short- intense work rather than longer-slower work)
Does Canada have an equivalent visa to the US H-1B visa?
Yes, Canada's LMIA/ work permits are equivalent to the US H-1B visa. Both require that the employer prove there is a market shortage and therefore, an employee already in the country cannot be hired instead of the applicant. Individuals applying for a Canadian work permit must have their employer complete a Labour Market Impact Assessment (LMIA) to demonstrate the need for the skilled worker. Even though both countries' work permits operate similarly, there are still many advantages for tech workers that choose to immigrate to Canada.

What Advantages Do Tech Workers Have In Canada? 
Although the choice to immigrate to any country is deeply personal, there are a few reasons why Canada might be more attractive to tech workers than the US. This is mainly due to the cumbersome USA immigration system. In the US, many skilled tech workers enter the US using an H-1B visa which is limiting in several ways. In more recent years, concerns over the policies of President Trump have led individuals to simply bypass the US for Canada.
Work permits are easier to obtain in Canada. In the US, the H-1B visa uses a lottery system to determine which applications will be evaluated. On top of this, the federal government imposes an H-1B cap which means that only a specified number of H-1B visas can be granted each year. Often, the cap is reached quite quickly and hopeful immigrants have to wait until the following year to submit applications. The H-1B visa allows employers to sponsor their employees for their green cards. However, the wait times for green cards for H-1B holders are between 10 and 15 years. Meanwhile, if you hold a Canadian work permit, you can gain permanent residency within the year as long as you meet the requirements. Ultimately, holding a Canadian work permit can offer you better immigration options.  
Additionally, Canada's government provides more support to skilled tech workers. This support comes in the form of the Global Talent Stream which is a part of Canada's Global Skills Strategy as well as the Provincial Nominee Programs. The Global Talent stream falls under Canada's Temporary Foreign Worker Program and individuals are applying for a Canadian work permit. The program created a two-week standard for processing work permit applications for highly skilled workers in STEM and IT fields. It demonstrates the government's commitment to attracting skilled tech workers to Canada and serves as a pathway to permanent residency. The provincial nominee programs are a way for individual provinces to select applicants that best meet the demands of their labor market. These programs work through Canada's main Express Entry system. Applicants will receive a CRS and are eligible in the main draw. Also, individual provinces can nominate people and at the moment, many of the provinces are looking for tech workers. This means that if your CRS score is too low to qualify for Express Entry but you have tech experience you can still be selected through a provincial nominee program. Ontario and British Columbia both have specific programs that emphasize recruiting tech talent.
Ontario:
Ontario participates in Canada's Provincial Nominee Program (OINP) and is currently facing a skilled labor shortage. The OINP, in 2019, launched Tech Draws. These draws only select candidates with tech skills and are designed to help Ontario meet the labor needs of its tech industry. The tech draw operates within Ontario's Human Capital Priorities stream and uses the Express Entry pool. It is important to note that you do not need to have a job offer to qualify for this stream.
British Columbia:
British Columbia has extended its Tech Pilot, introduced in 2017, until June 2020. The pilot, a part of the BC PNP, has 29 eligible tech occupations and serves as a fast track for applicants holding a valid job offer in one of those occupations. The extension helps support British Columbia's goal of hiring top tech talent.