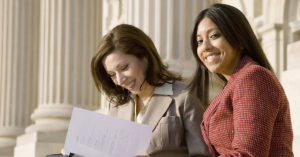 As recently reported by CIC News, the number of Canadian immigrants who actually want to become citizens has dropped by 53% in recent years. Only 26 per cent of Canadian immigrants have expressed the desire to be granted citizenship.
According to former citizenship director-general Andrew Griffith, the massive decline is due to the government's recent fees and rules regarding Canadian citizenship.
He said: "These charges have made it harder and prohibitive for some to acquire citizenship, turning Canada into a country where an increasing percentage of immigrants are likely to remain non-citizens, without the ability to engage in the Canadian political process."
Stepping Stone to Immigrant Integration
Griffith also noted that previously, citizenship had always been seen as a stepping stone for immigrant integrating into society. The drop reportedly happened between 2000 and 2008. In 2007 alone, the percentage fell to 44%.
Currently, the residency rules state that you must be a resident in Canada for at least three out of four years, however this is set to change in June to four out of six years. The age of exemption from citizenship and language tests will also be raised from 55 to 65.
Since 2010, regulations have become increasingly stringent, including the introduction of a Canadian citizen test to measure applicants' knowledge of the country's culture, history and values. In order to pass, you need to earn a score of 75 per cent – up from a previous 60 per cent – this means applicants need to pass at least 15 multiple choice questions out of the total 20.
A Direct Impact
According to Griffith, the new passing rate had a direct impact on the number of people gaining citizenship, with immigrants from the Caribbean alone seeing their pass rates fall by nearly 20%. Meanwhile, immigrants from Southern and East African areas, along with immigrants from South Asian, all experienced a decline of over 15 per cent in pass rates.
Johanne Nadeau, spokesperson for Citizenship and Immigration Canada, stated that the new citizenship test is exactly the same for every applicant, and is "neither too easy nor too difficult". In order to pass the test, immigrants must have a comprehensive understanding of Canada's history, identity and values.
The matter of fees is also a concern for many potential citizens. In 2014, the fees increased from $100 per adult, to $530 – not including the additional $100 "Right of Citizenship" fee that must be paid by successful candidates.
Griffith said: "When you make it more difficult for some communities to become citizens, you are going to create issues with their engagement, attachment and identity of Canada."
Are You Interested in Immigrating to Canada?
If you're interested in immigrating to Canada, we at Visaplace can help you. We have literally helped thousands and thousands of people successfully immigrate to Canada, so they can visit, work, study or live, and we certainly can help you too!
The first step towards moving to Canada is to get an assessment of your specific situation. All you need to do is use our free online immigration assessment form here or contact us here.