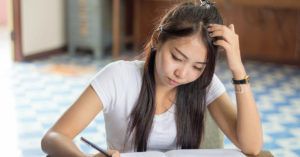 What is the Canadian Citizenship Test?
The Canadian citizenship test is required for individuals between ages 18 and 54 applying for citizenship. It is most commonly a written test, but sometimes an applicant will be required to take oral test with a citizenship officer instead. The test focuses on subjects like citizens' rights, freedoms, and responsibilities, along with democracy, society, geography, history, and politics. You will receive a notice from your local citizenship office with the time and date of your test, and will report to the Department of Immigration, Refugees, and Citizenship to take the test. You will bring the original documents you sent with your application and any passport or travel documents you used in the five years prior to applying.
Recommended Resources for Those Taking the Canadian Citizenship Test
If you are studying for your Canadian Citizenship test, you're most likely going to be reading 'Discover Canada: The Rights and Responsibilities of Citizenship', the one and only official government study guide designed for newcomers.
Citizenship and Immigration Canada (CIC) states: "If you have applied for citizenship and are preparing for the citizenship test, your primary resource should be the official study guide. If you use any other material to prepare for the citizenship test, you do so at your own risk."
The guide is completely free, and provides everything you need to prepare for the Canadian Citizenship test, along with sections on:
The history and regions of Canada
How the Canadian government works, and;
The various symbols of Canada
The guide is available in print, electronic and audio format, and although CIC note that there are very minor differences in each, these will not affect your ability to prepare for your citizenship test.
Study Questions
Along with important information on the Oath of Canada, modern Canada, the Canadian justice system, and Canada's history and current economy, the guide will also provide you with some helpful study questions.
The guide states:
"One of the basic requirements of citizenship is to demonstrate that you have adequate knowledge of Canada. The citizenship test is used to assess your knowledge of Canada and the rights and responsibilities of being a citizen in Canada. All the citizenship test questions are based on information provided in this study guide. You will be asked about facts and ideas presented in the guide." 
The questions included are all very similar to what you will be asked on your Canadian Citizenship test, so it's wise to use these to get some practice in. If you find you get most of the questions right, it could be a good indicator that you will be able to pass the actual citizenship test.
Sample Questions
Which province is the only officially bilingual province?
Who are the Aboriginal peoples of Canada?
What is the role of the courts in Canada?
What are the three parts of Parliament?
Further Guidance
If you think you're in need of further guidance, 'Discover Canada' also provides a section to help you find other resources so that you can be fully prepared for the Canadian Citizenship test. This includes help searching for citizenship classes in local schools, colleges and community centres, as well as how you can find further books and videos about Canada.
Some of the recommended library reading includes:
Canada: A Portrait (Statistics Canada)
The Canada Yearbook (Statistics Canada)
The Canadian Encyclopedia
Canada: A People's History (Canadian Broadcasting Corporation)
How Canadians Govern Themselves (Eugene Forsey)
A Crown of Maples (Canadian Heritage)
Symbols of Canada (Canadian Heritage)
Are you Preparing to Sit the Canadian Citizenship Test?
You can download the full guide from CIC here.
Applying for a visa in any country can be daunting, and if you have been rejected, you may feel even more disheartened. We can help.
Trust the staff of Niren and Associates. Michael Niren is a member of the Law Society of Upper Canada, the Canadian Bar Association's Citizenship and Immigration Section and the American Bar Association. He is frequently called upon to appear in the media to discuss Canadian and US immigration issues effecting North Americans.
To speak with a member of our staff, free eligibility online assessment form here and then one of our immigration professionals will get back to you.