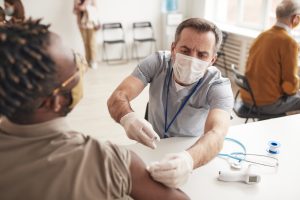 Last week Canada's Prime Minister Justin Trudeau announced that new border opening updates were to come for those looking to travel to Canada. Due to Canada's current positive vaccination rate and public health conditions, Trudeau today announced these official updates granting many individuals entry to Canada. Officials already began easing Canada's travel restrictions earlier this month, allowing fully vaccinated Canadians or permanent legal residents to return without quarantining. Among the requirements are a negative test for the virus before returning, and another once they get back.
Learn more about previous Canadian COVID-19 travel restrictions.
Fully Vaccinated Tourists Traveling to Canada
American Travelers
Fully vaccinated Americans will be allowed to enter Canada starting August 9, 2021 for non-essential travel. To be considered "fully-vaccinated", individuals should have received the correct vaccine dosage. Currently, Canada accepts the following vaccine manufacturers:
Astra Zeneca
Pfizer
Moderna
Janssen (Johnson & Johnson)
Before traveling to Canada, you will need to show proof of your vaccination which you can learn more about below.
All Other International Travelers
Looking ahead, if Canada's vaccination rates stay on track, officials could even be letting fully vaccinated travelers from all countries enter Canada by September! Trudeau noted Canada continues to lead G20 countries in vaccination rates with approximately 80% of eligible Canadians vaccinated with their first dose and over 50% of eligible Canadians fully vaccinated. He said case numbers and severe illnesses continue to decline across the country as vaccination rates continue to increase.
Proof of Vaccination
Those starting to plan their trip to Canada after August 9, will need to submit proof of their vaccination before arriving in Canada. Air carriers will be verifying that travelers coming to Canada have submitted their information through ArriveCAN before boarding on a mobile device or printed. Tourists who are not able to show their ArriveCAN receipt will not be allowed to fly. Along with your verification, you will need to bring your actual vaccine certificate to show officials at the border.
Travelers with a right to entry, such as Canadians and other travelers exempt from border restrictions, will have to submit information regarding their vaccination status via ArriveCAN but will not be denied boarding if not done.
Learn more about using ArriveCAN for Canadian travel.
Unvaccinated Children Traveling
Because children under the age of 12 years old cannot receive a COVID-19 vaccine, Canadian officials are having to tweak their border opening requirements for these dependents. Starting August 9, unvaccinated dependents of fully vaccinated travelers will no longer have to complete the full 14-day quarantine. Instead, they will have to follow public health measures for that amount of time. They will still be subject to all entry and testing requirements, including on-arrival and day eight testing. This will apply to unvaccinated children internationally traveling to Canada. The rules may vary by province.
Other Travel Restriction Updates
Quarantine
The Canadian government is aware that some individuals are unable to receive a COVID-19 vaccine due to health conditions or other reasons so there are eased quarantine requirements in place for those who fall under this category. Those eased quarantine requirements have not been announced yet so we expect more information soon.
International Flights
In the beginning of the pandemic, many Canadian airports stopped allowing international flights to enter accept Vancouver, Calgary, Toronto, and Montreal airports. Starting August 9, five more airports will once again accept international fights. The airports include:
Halifax
Quebec City
Ottawa
Winnipeg
Edmonton
India Flight Ban
The first ban for any flights from India to Canada was imposed on April 22, 2021. Since then, there have been four extensions to the ban. Recently, the ban was set to expire on July 21st, 2021 but is now extended for another 30 days until August 21st, 2021.
Learn more about this India flight ban extension.
Testing Requirements
Starting August 9, Canadian citizens and permanent residents traveling to the US for less than 72 hours can do their pre-entry arrival test in Canada. This means those Canadian travelers do not need to take a second test in the US in order to be allowed back in. Those who have recovered from COVID-19 but continue to test positive can present their test taken between 14 to 180 days prior to arrival (used to be 90 days).
Fully vaccinated travelers will not need a post-arrival test unless they have been randomly selected for an on-arrival test. There are no changes to mandatory testing requirements for unvaccinated travelers. Unvaccinated travelers will still have to undergo on-arrival and day-eight testing.
If You Have Concerns About Entering Canada? Contact Us!
If so, Contact VisaPlace today. All our cases are handled by competent and experienced immigration professionals who are affiliated with VisaPlace. These professionals consist of lawyers, licensed paralegals, and consultants who work for VisaPlace Legal, an award-winning immigration firm that adheres to the highest standards of client service.
Ready for the next step? Book your 1 on 1 consultation now or call us at 1-888-317-5770.
Have a Question related to your Immigration Needs?
Fill out the FREE Immigration Assessment form and get a response within 24 hours to see if you're eligible.
The assessment form should take approximately 5-7 minutes to complete. We will get back to you within one business day to let you know if we are able to help.