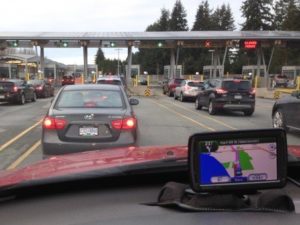 Illegal immigration is any form of immigration where proper government channels are not followed. There are many reasons why a person might chose to cross the Canadian border illegally. These include seeking asylum or fearing that the legal channels of immigration would deny a person's visa. However, crossing the border illegally can have serious consequences for a person's later ability to obtain legal citizenship.
Consequences:
Two major consequences exist for crossing illegally: deportation and inadmissibility.
Deportation:
Deportation is the act of sending an illegal immigrant back to the country they hold citizenship with. In other words, they are returned to the situation they attempted to flee from in the first place. Because Canada does have a large legal immigrant population and a relatively small illegal one, when compared to the US, it is difficult for illegal immigrants to live within in Canada. If they are successful for a time and build a life within  in Canada, they ultimately have more to lose. Canadian immigration will still deport an illegal immigrant that has a proven track record of good employment and new familial roots in a community.
Inadmissibility:
Inadmissibility means that you would no longer be eligible to apply for Canadian citizenship through a legal pathway. Inadmissibility is linked to deportation. There are three main ways you can be deported:
Departure Order: You have 30 days to leave Canada and if you compile you may return to Canada without needing to obtain an Authorization to Return to Canada (ARC). However, if you fail to compile, your departure order becomes a deportation order and you will need an ARC to return to Canada.
Exclusion Order: You cannot return to Canada for at least one year unless you apply for an ARC. An exclusion order due to misrepresentation (essentially you failed to provide valid and true information) means that you cannot return to Canada for two years unless you apply for an ARC.
Deportation Order: You need to leave immediately and must always apply for an ARC to return to Canada, provide documentation and potentially attend an interview.
When you apply for an ARC, you will need to provide a written explanation for why you did not follow Canadian immigration law. Because you have failed to follow immigration law previously, it is very challenging to demonstrate that you will follow it now. This means that you are unlikely to be granted an ARC. If you have been deported, this means that you could very well never be able to legally re-enter Canada.
Asylum Seekers:
In 2018, 28,000 asylum seekers crossed the Canadian border illegally ( Zimonjic). Once an application for asylum is made it takes approximately 19 months for a decision to be made. However, there has been a rise in the amount of cases that are turned away at the border.
US Temporary Protected Status (TPS) Holders:
Following President Trump's move to end TPS for citizens of Haiti, Nicaragua, El Salvador, Nepal, Honduras and Sudan, many TPS holders are considering moving North to Canada. Unfortunately, this is not as straightforward as TPS holders might wish. Canada currently does not allow individuals who hold asylum status in another country to apply for asylum within Canada. Additionally, Canadian border agents will turn away immigrants who attempt to cross legally at border points. At this point in time, immigration officials are urging TPS holders to wait fro the courts to decide on the legality of ending TPS before trying to immigrate to other countries.
Legal Alternatives to Illegal Immigration:
Canada has a lower birthrate than the United States meaning that the population is declining. Combined with the effects of a younger generation that is moving from rural parts of Canada, there is a shortage of workers in many fields in Canada. As a result, Canada has put into place several immigration programs that aim to draw immigrants to the country.
Are You Interested in Immigrating to Canada?
If so, Contact VisaPlace today. All our cases are handled by competent and experienced immigration professionals who are affiliated with VisaPlace. These professionals consist of lawyers, licensed paralegals, and consultants who work for Niren and Associates an award-winning immigration firm that adheres to the highest standards of client service.
Ready for the next step? Book your 1 on 1 consultation now or call us at 1-888-317-5770.
Have a Question related to your Immigration Needs?
Click here to fill out the FREE Immigration Assessment form below and get a response within 24 hours to see if you're eligible.
The assessment form should take approximately 5-7 minutes to complete. We will get back to you within one business day to let you know if we are able to help.
Sources:
Peter Zimonjic, "Fewer than 1% of more than 28,000 irregular asylum seekers have been removed from Canada so Far", CBC News, May 07, 2018.
"Canada to Reject Refugees with Claims in Other Countries", BBC News, 9 April 2019.