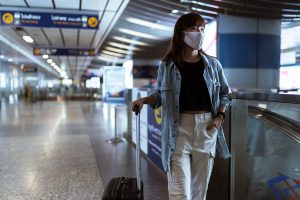 After more than a year of firm travel restrictions to Canada due to the Coronavirus, the Canadian government has finally started to mention a plan to ease these restrictions in the weeks to come.
Canadian Prime Minister Justin Trudeau stated last month to the Canadian Broadcasting Corporation that he would prefer to wait until 75 percent of the country has been vaccinated before fully reopening the border, but his administration has been pressed to come up with a plan to reopen borders sooner.
Despite talk of an impending shift, Trudeau repeated at a news conference earlier this month that border restrictions will be based on the number of Canadian citizens who have received both doses of the vaccine or are deemed fully vaccinated.
As of June 4th, 56.8% of the Canadian population had received at least one dose of the COVID-19 vaccine and 5.7% had been fully vaccinated, according to the Canadian government's website.
Ottawa's government stated that fully vaccinated visitors who are presently permitted to enter Canada would soon be able to bypass the federal 14-day quarantine rule, including the mandatory hotel stay. Instead, they will be required to produce confirmation of a negative pre-departure COVID-19 test, take another test upon arrival, and self-isolate until that test returns negative.
Keep in mind – only travelers who received a vaccine approved by Health Canada (Pfizer, Moderna, AstraZeneca, and Johnson & Johnson) will be allowed to bypass the 14-day quarantine. The government said it will assess and consider approving other COVID-19 vaccines at a later date.
What Does This Mean for Canadian Citizens?
The nation may also take efforts to ease restrictions on returning residents.
Currently, all fly-in travelers to Canada are required to stay at a government-approved hotel while waiting for COVID-19 test results for 14 days. According to the federal government, fully vaccinated Canadian citizens and permanent residents will soon be able to forego the hotel stay as part of their quarantine period.
Will the Canada/US Border Open?
There has been some talk that only the United States plans to open its side of the border to non-essential traffic on June 22. However, the U.S. government has denied the rumours.
Either way, eager cross-border travellers may receive additional information soon. According to New York congressman Brian Higgins, Prime Minister Justin Trudeau and US President Joe Biden are expected to discuss the matter during the G7 conference in the United Kingdom.
Do You Need Help Traveling to Canada During COVID Restrictions?
If so, Contact VisaPlace today. All our cases are handled by competent and experienced immigration professionals who are affiliated with VisaPlace. These professionals consist of lawyers, licensed paralegals, and consultants who work for VisaPlace Legal, an award-winning immigration firm that adheres to the highest standards of client service.
Ready for the next step? Book your 1 on 1 consultation now or call us at 1-888-317-5770.
Have a Question related to your Immigration Needs?
Fill out the FREE Immigration Assessment form and get a response within 24 hours to see if you're eligible.
The assessment form should take approximately 5-7 minutes to complete. We will get back to you within one business day to let you know if we are able to help.