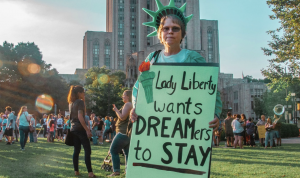 Thousands of kids are brought to the US each year by parents wanting to give themselves and their families a better life. Sometimes, these families come to the US illegally which causes problems for many children who later become adults. In fact, as of March 2020, 1.8 million immigrants were eligible for the DACA program but 800,000 were enrolled.
What Is DACA?
The DACA program also referred to as Deferred Action for Childhood Arrivals, was created to protect undocumented immigrants who were brought to the US as kids. The program does not grant them official legal status or a pathway to citizenship, but it does allow them to apply for a driver's license, social security number, and work permit. Those enrolled in the DACA program are called "DREAMers."
Related Article: Build Better Back Act Plans for Undocumented Dreamers
DACA Requirements
There are a few requirements that would allow an individual to gain protection under the DACA program. These individuals must:
Have entered the United States unlawfully prior to their 16th birthday
Have lived continuously in the United States since June 15, 2007
Were under age 31 on June 15, 2012 (born on June 16, 1981 or after)
Were physically present in the US on June 15, 2012, and at the time of making their request for consideration of deferred action with the USCIS
Had no lawful status on June 15, 2012
Have completed high school or a GED, have been honorably discharged from the armed forces, or are enrolled in school
Have not been convicted of a felony or a serious misdemeanor, or three or more other misdemeanors, and do not otherwise pose a threat to national security or public safety
How To Apply for DACA
If you are seeking to be a part of the DACA program, you must follow the following steps!
Complete a Form I-821D and Form I-765
Submit your application
Submit your supporting documents
Pay the assosciated fees ($495 USD)
Schedule and attend your biometrics appointment
Supporting Documents for DACA Processing
There are a number of supporting documents that applicants must submit to prove their eligibility for the DACA program. These documents include:
Proof of identitfication (passport, birth certificate, state-issued photo ID, military ID, or school ID)
Proof you came to the United States before age 16
Proof of established residence prior to age 16 (if you left the US and returned later)
Proof of residency since June 2007
Additional documents to prove any absences from the US since 2007
Proof of presence in the US on June 15, 2012
Proof of no lawful status on June 15, 2012
Proof of current education, graduation, GED, or military service
Proof of honorably discharged veteran status
Proof of removal proceedings
Proof of criminal history
Can I Renew My DACA Status?
To renew your DACA status, you must complete another Form I-821D, Form I-765, and meet the following conditions:
Applicant did not depart the US on or after Aug 15, 2012 (without a valid travel document)
Applicant continuously resided in the US since submitting their most recent approved DACA request
Applicant has not been convicted of a felony, a serious misdemeanor, or three or more misdemeanors, and does not pose a threat to national security or public safety
Do You Need Immigration Help?
If so, Contact VisaPlace today. All our cases are handled by competent and experienced immigration professionals who are affiliated with VisaPlace. These professionals consist of lawyers, licensed paralegals, and consultants who work for VisaPlace Legal, an award-winning immigration firm that adheres to the highest standards of client service.
Ready for the next step? Book your 1 on 1 consultation now or call us at 1-888-317-5770.
Have a Question related to your Immigration Needs?
Fill out the FREE Immigration Assessment form and get a response within 24 hours to see if you're eligible.
The assessment form should take approximately 5-7 minutes to complete. We will get back to you within one business day to let you know if we are able to help.