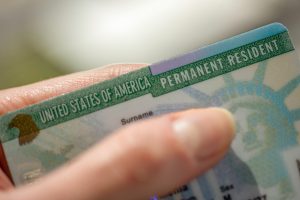 For those who want to renew or replace a green card, they must fill out the I-90 Form which is officially called the "Application to Replace Permanent Resident Card". People will use this form for several reasons such as a green card expiring, already expired, been stolen, damaged, or destroyed.
Do I Need the I-90 Form?
The I-90 form is for US permanent residents and permanent residents in commuter status to apply for a replacement or renewal of an existing PR card, other known as a Green Card. Conditional permanent residents may use the I-90 form to apply for a replacement for their active PR card but they may not use it to replace an expired PR card.
How to Apply for a New Green Card
There are several sections of the Form I-90 that are required to be considered complete.
Section 1: About You
This section is all the information needed about yourself including personal information and family information.
Alien Registration Number
USCIS Online Acccount Number
Legal Name Change
Mailing Address
Physical Address
Class of Admission
Date of Admission and Date of Birth
Section 2: Current Immigration Status
You have several options for which option describes you:
Permanent Resident (regular green card holder)
Commuter Resident (a Canadian or Mexican resident who travels to the US for work)
Conditional Resident (a spouse with a 2-year marriage green card or an investor 2-year green card)
Based on which status you selected you will be directed to either Section B or Section A on why you are applying for a new green card.
Section 3: Processing Information
In this section there are several items that must be answered:
Where you originally filed your green card application
Where your green card was approved
Where you were living and which port of entry you arrived at.
If you have ever been to immigration court
Section 4: Disabilities and/or Impairments
If you have a disability this section must be completed. You will provide information such as if you need a wheelchair then you must disclose that you will be arriving at the biometrics appointment in a wheelchair.
Section 5 to 7: Statement, Contact Information, Certification, and Signature
Within this section, you will be signing your signature proving you know that this is a legal document. If you need help completing this form (which we recommend) then you will indicate whether you used a lawyer/attorney or interpreter.
Section 8: Additional Information
Within this sectinon you will have extra space to provide any further information. You can answer the previous questions with longer answers here within the blank extra space.
Required Documents for the I-90 Form
Depending on what your reason is for filing the I-90 Form there are different required supporting documents.
If your green card is expired or expiring in 6 months you will need your Green Card
If your green card was lost, stolen, or mutilated you will need your Green Card or Government issued ID showing name, birthdate, photo, and signature.
If your green card was issued by USCIS but you never received it you will need to provide a Government issued ID with your latest Form I-797 OR your passport page with an I-551 stamp.
If your name or personal information has changed you will need to provide your Green Card and legal documents showing your new or correct name or personal information
If you are a "commuter" between Canada or Mexico and the US for work you will be required to provide your Green Card and evidence of your employment within the past 6 months.
If you've been a commuter but now live in the US not just for work you will be required to provide your Green Card and proof of US residence.
If your immigration status was automatically converted to "green card holder" you will be required to provide a Government-issued ID and evidence of temporary-resident status.
What Happens After You File the Form I-90
After you have submitted your Form I-90 to USCIS they will send you updates by mail and to your USCIS online account. There will be 4 main updates provided by the USCIS
Confirmation Letter
Biometrics Appointment Letter
Request for Evidence (only if USCIS needs additional documentation or information)
Decision Letter
What is the Processing Time for the Form I-90?
Form I-90 has an average processing time between 1 month and a year for renewals. If you are applying for a green card replacement then it will be about 5 to 13 months. The processing time varies so much due to the current workload and applications are being filed at the USCIS at that time.