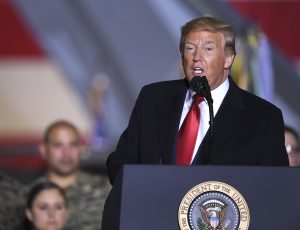 "Buy American, Hire American"
The President of the United States, Donald Trump, will sign an executive order prioritizing Americans over foreign workers. This order will be directed towards federal agencies that recommend changes to the temporary visa program known as the H-1B visa. This permit is used to bring foreign workers to the United States to fill high-skilled jobs that American's can not fill. The order Trump will sign calling for "the strict enforcement of all laws governing entry into the United States of labor from abroad for the stated purpose of creating higher wages and higher employment rates for workers in the United States."
President Trump in the past has accused companies of abusing the H-1B program which is mainly used in the technology industry. He ordered the federal agencies to start implementing a tighter temporary visa program. He also is seeking to change the government procurement practices to increase the purchase of American goods in federal contracts. Both are implementing a tighter visa system and improving the purchasing process are part of President Trump's "buy American and hire American" order.
The executive order will be signed in the world headquarters of Snap-On Inc, a tool manufacturer in Kenosha, Wisconsin. This executive order was the first attempt in rolling out Trump's "America First" campaign to reform the US immigration policies and encourage the use and purchase of American products. Once the executive order is in place, many departments such as the Labor, Justice, Homeland Security, and State will be called upon to start the cracking down on fraud and abuse in the US immigration system to protect American workers. These departments will have to tighten their system of how the H-1B visas are given out. In the future, they will now be awarded to only the most skilled or highest paid foreign applicant. The H-1B visas were initially intended for foreign workers in "specialty" occupations. The US Citizenship and Immigration Services state that these occupations may include but not limited to, scientists, engineers, or computer programmers. Each year about 65,000 visas are awarded through a lottery system, and another 20,000 are randomly distributed for graduate student workers. In 2016, about 236,000 applications for the H-1B visa were handed into the US government, but this year according to USCIS only 199,000 were filed. Many critics are saying that the lottery system benefits outsourcing firms rather than American soil companies.
The H-1B visa has been highly used within the technology industry in America. For example, more than 15 perfect of Facebook US employees in 2016 used a temporary work visa such as the H-1B visa. American companies say that they use the visas to recruit top talent to keep their American company growing. Some critics of tightening the regulations have stated that the restrictions would "hurt thousands of US businesses and their efforts to be more competitive" by hindering access to needed talent that American's can not fill.
Alternative Options to the H-1B Visa
L-1 Visa: Organizations in the U.S. with a related entity abroad such as a parent, subsidiary, affiliate, or branch, may transfer managers, executives and those with specialized knowledge to work for the U.S. entity on an L-1 visa. You must have worked for the foreign entity for at least one continuous year during the last three years of employment to be eligible for the L-1 visa
H-2B Visa: Personnel who are needed in the U.S. for a temporary, seasonal or a one-time employment may consider using an H-2B visa. These are generally issued for jobs lasting less than one year such as tourism or attraction jobs.
J-1 Visa: This visa is sometimes called the trainee visa. It is meant for employees who are not experienced but wish to come to the U.S. to gain knowledge on a client product or the prospective employer's products.
O-1 Visa: This work visa is for extraordinary people who are considered the "best" in their field. Occupations such as artists, entertainers, athletes, researchers, business people, and scientists use the O-1 visas.
TN Visa: This is the closest alternative to the H-1B visa as it is for specialty workers as well. Some of the positions that use the TN visa include medical professionals, scientists, and professionals in fields such as science, art, management, and business.
Although the H-1B visas may become harder to obtain due to the stricter guidelines and requirements, there are alternative visas available for you to work in the United States
We will be following the executive order closely and reporting the changes made to US Immigration. Connect with us on Facebook, LinkedIn, Twitter and Instagram for daily updates!
Are You Interested in Working in the US?
Fill out our FREE online immigration assessment, and we will get back to you within 24 hours.
WE WANT YOUR FEEDBACK!
Do you think the executive order will hurt American companies such as Facebook and Google? Comment below, we want to hear your opinion!
Related Pages:
The H-1B Visa Reached Its Yearly Cap
Source: http://www.csmonitor.com/USA/Politics/2017/0418/New-executive-order-to-prioritize-Americans-over-foreign-workers