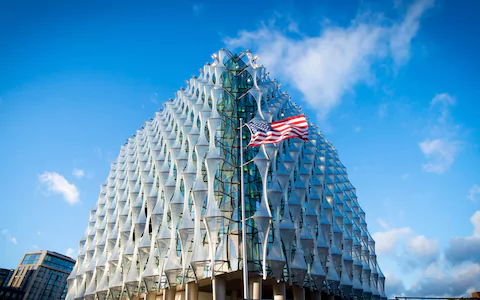 A South Florida man had hopes of bringing his parents to the United States by immigrant visas, but this was not nearly as smooth of a process as he had imagined it would be. In order for this US citizen to bring his parents overseas, the Department of State wanted proof that he had at least four times the required amount. Federal law demands that he would only have to show proof of $220,000 to move forward with his case, but the US embassy insisted he must come up with $1 million USD.
There is no exact reason as to how the US embassy came up with the number $1 million for this specific case. Lawyers say the million-dollar benchmark was "simply pulled from thin air" and is a "blatant abuse of discretion" by U.S. consulate offices.
The man's attorney, Tammy Fox-Isicoff, stated "My client clearly meets the requisites. This decision is arbitrary and capricious and shows how consulates are abusing their discretion which isn't reviewable in court."
Attorneys say the narrative of consulars taking action out of their own judgment— rather than federal guidelines— is becoming more prevalent at U.S. embassies around the world.
This issue is compounded by the fact that there is currently no appeals process for visa refusals. For immigration attorneys, the only review option when it comes to a consular's decision is to visit LegalNet — an office which operates within the State Department. Yet according to the United States Supreme Court case Kerry v. Din, LegalNet does not review case findings, bringing immigration attorneys back to square one.
Fox-Isicoff's client, a Hollywood man in his 30s who wishes to stay anonymous, is married and has two children. The man, who holds a master's degree from the University of Florida, applied to bring his parents, who work as engineers in Uzbekistan, to the United States to help support him and his wife with the caretaking of their two young children.
U.S. Immigration law says consular officers analyze the "totality of the applicant's circumstance" including — age, health, family status, education and skills, assets, resources, financial status and also "affidavits of support."
An affidavit of support is a legally binding document that "financial sponsors" sign to insure financial responsibility for the immigrant. In the Hollywood man's case, his co-sponsor is a close family friend with a $150,000 annual salary — about six times the required minimum.
When Fox-Isicoff challenged it with LegalNet, the office concurred with the consular's decision but would not explain the reasoning, emails show. The Department of State did not immediately respond to a request for comment Monday.
The reason the consulars have been able to 'get away' with these rash decisions is because of consular nonreviewability. Consular nonreviewability protects the decisions of U.S. consular officers, including approvals and denials of visa applications, from review by U.S. courts.
In another Miami-Dade case, a disabled military veteran, who now works as a mailman, was denied the ability to bring in his immediate relatives based on his affidavit of support.
The U.S. Consulate in Peru said he was denied because he couldn't use his non-taxable VA payments, about $20,000 a year, as proof of income.
Because of the Trump administration's current immigration policies, many attorneys have come to believe that denying immigrant visas is essentially another way of separating families, and slowing the pace of legal immigration by the United States Citizenship and Immigration Services. The USCIS is an agency under the Department of Homeland Security that administers the country's naturalization and immigration system.
Are You Interested in Immigrating to the US?
If so, Contact VisaPlace today. All our cases are handled by competent and experienced immigration professionals who are affiliated with VisaPlace. These professionals consist of lawyers, licensed paralegals, and consultants who work for Niren and Associates an award-winning immigration firm that adheres to the highest standards of client service.
Ready for the next step? Book your 1 on 1 consultation now or call us at 1-888-317-5770.
Have a Question related to your Immigration Needs?
Click here to fill out the FREE Immigration Assessment form below and get a response within 24 hours to see if you're eligible.
The assessment form should take approximately 5-7 minutes to complete. We will get back to you within one business day to let you know if we are able to help.