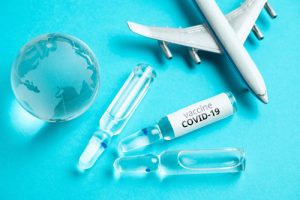 All international passengers, including Canadians, must be fully vaccinated against COVID-19 to enter the country via land ports of entry and ferry terminals as of Jan. 22, according to the US Department of Homeland Security. At land ports of entry and ferry terminals along the US-Mexico and US-Canada borders, the regulation applies.
The US had previously required people entering the nation by air transport to be completely vaccinated, but this need has now been extended to land borders. The new rules apply to both necessary and non-essential travel, but not to citizens, lawful permanent residents, or nationals of the United States.
Vaccination Requirements for Travel to the US
Prior to entering the United States, all non-immigrant, non-US citizen travelers are required to be completely vaccinated and produce documentation of vaccination status.
"These updated travel requirements reflect the Biden-Harris Administration's commitment to protecting public health while safely facilitating the cross-border trade and travel that is critical to our economy," Department of Homeland Security Secretary Alejandro Mayorkas said in a statement.
Unvaccinated Americans, lawful permanent residents, and nationals of the United States will still be permitted to enter the country via air, ferry, or land port.
Do I Need to Be Vaccinated to Visit the USA?
The first question to ask is: Are you a US Citizen or US Permanent Resident? If your answer is yes then, you do not need to be vaccinated to enter the USA.
If you are visiting the United States and not a citizen or permanent resident, you will be required to be vaccinated against COVID-19.
Are There Any Exemptions for the Visiting to the US Vaccination Rule?
Exceptions to this policy will be extremely limited:
Children under 18
People medically unable to receive the vaccine
Emergency travelers who do not have timely access to a vaccine
Do You Need Help Visiting the US?
If so, Contact VisaPlace today. All our cases are handled by competent and experienced immigration professionals who are affiliated with VisaPlace. These professionals consist of lawyers, licensed paralegals, and consultants who work for VisaPlace Legal, an award-winning immigration firm that adheres to the highest standards of client service.
Ready for the next step? Book your 1 on 1 consultation now or call us at 1-888-317-5770.
Have a Question related to your Immigration Needs?
Fill out the FREE Immigration Assessment form and get a response within 24 hours to see if you're eligible.
The assessment form should take approximately 5-7 minutes to complete. We will get back to you within one business day to let you know if we are able to help.