Based from the large quantity of applications received by the United States Citizenship and Immigration Services (UCSIS) in some countries, family based petitions have become one of the most sought after methods in bringing a relative into the United States. In certain countries like China, Philippines, and Mexico, the period of waiting could be very exhausting because the family based petitions swamping the USCIS service centers each fiscal year usually exceed the maximum limit of family members allowed in one country to immigrate to the US.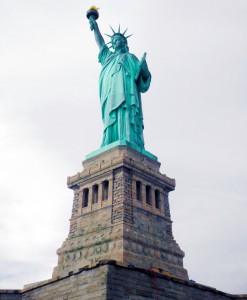 You may want to know how you, as a Green Card holder, can bring a family member to immigrate to the US through your status as a lawful permanent resident of the United States. Green Card, which is the Alien Resident Card given to a a lawful permanent resident, used to have green stripes until it recently turns mostly white with several subsequent alterations made to it. You probably know that the law allows you to sponsor your relative, but just don't know where and how to start.
To begin with, here are the list of relatives you can sponsor:
Husband or wife
Unmarried Children regardless of age
Sorry, but you have to be a US citizen before you can petition for your married children. You must be able to show proofs that you have enough income and sufficient assets to support your relatives when they get to the United States. You need to include evidence of relationship at the time you submit your petition.
Start by filing the Petition for Alien Relative form. You will be mailed a copy of the confirmation saying that your petition has been received. To avoid rejection or delay, you must make sure that your petition is completely filled out and the pieces evidence are sufficient to prove your claim. Once you filed the form and established that you have a qualifying relationship with your beneficiary, your family member once approved will be given a priority date. Priority date is the other name used for having a place in line of people waiting to immigrate to the United States based on the numbers of same type of family based petitions in the country where your relative is from.
When your family member's priority date becomes current or reaches the front line, he or she will be able to leave for the US. However when the time comes for your relative to move to the United States as an immigrant, you must fill out and submit an Affidavit of Support form, which attests that you agree to become a financial sponsor  when your relative gets to the United States. The problem arises when your means is not able to meet the minimum requirements of the law for becoming a financial sponsor. In this case you may need to have a co-sponsor.
In some cases, an unmarried child or children can subsequently join your spouse, whom you filed the original petition for, on the same visa petition provided however that the child or children is under 21 years of age. However, if your child or children became 21 years old before your spouse reaches her turn in the line, you have to file a separate individual petition for every child included in your original petition.
We are more than willing to assist you with your immigration matters if you
contact us
now using the form on the right side of this page.