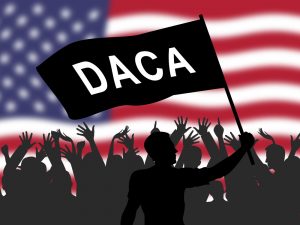 On November 14, 2020 a federal judge ruled that the previous stop for any new DACA applications would not be accepted was unlawful and would be overturned. Chad Wolf was the man who sent a memo ending DACA applications and limiting renwals to only one or two years amid an ongoing review. The Supreme Court blocked the Trump administration in attempt to end the program and Chad Wolf created this memo to buy the administration more time before deciding its next steps. A federal judge deemed that Chad Wolf was not legally serving as acting Homeland Security secretary when he signed these rules limiting DACA applications and renewals.
Who Will Get DACA Benefits?
DACA (Deferred Action for Childhood Arrivals) is a US immigration policy that allows some individuals who are undocumented in the US after being brought to the country as children to receive a 2 year period of deferred action from deportation and allowed a work permit. Those who will start receiving DACA benefits will be those who are eligible for DACA but could not apply due to the Trump's administration cut off in September 2017.
Legal Issues with the DACA Program
In June 2020, the Supreme Court ruled in a 5-4 vote that Trump's administration's 2017 decision to end DACA was legally flawed. A federal judge in Maryland is considering a motion to have the Trump administration declared in contempt of court for failing to reinstate the DACA program.
"The Supreme Court already ruled that President Trump's attempts to unfairly punish Dreamers was unlawful, but now another federal court has ruled that this administration's attempts to circumvent the courts in an effort to target and punish innocent young people is just as unlawful," James said in a statement. "Time and time again, this outgoing administration attempted to use young immigrants as political scapegoats. … Our coalition will not hesitate to use every tool at our disposal to continue to protect these young people in every way possible. Si se puede!" – New York Attorney General Letitia James.