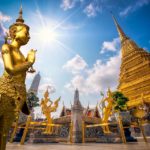 Canadian Embassy in Thailand – Bangkok
Street Address:
The Canadian Embassy
Immigration Section
15th Floor, Abdulrahim Place
990 Rama IV Road
Bangkok 10500
Thailandy
Mailing Address For Canadian Embassy in Thailand:
The Canadian Embassy
Immigration Section
P.O. Box 2090
Silom Road
Bangkok 10501
Thailand
Tel.: (66-2) 636-0540
Fax: (66-2) 636-0567
E-mail Address: Bangkok-im-enquiry@international.gc.ca
Website: www.canadainternational.gc.ca/thailand-thailande/
Additional information about this Canadian Embassy in Thailand:
The Canadian Embassy in Thailand is also responsible for visitor applications for Cambodia, Laos and Myanmar (Burma).
Approximately 9,000 people from Thailand come to Canada each year for school, work or tourism while over 100,000 Canadians visit Thailand each year. There are an exceptionally high number of inter-school academic agreements between Thailand and Canada when compared to other countries, and Canada has had established diplomatic relations with Thailand since the 1960s.
Should You Contact a Lawyer First…?
It is important to remember that when applying for Canadian Immigration, you are required to submit your application to the Canadian Embassy of your nationality. However, there are some exceptions to this rule. You should always contact an immigration lawyer to assist you with the procedures associated with the Canadian Embassy of your region because the Canadian Embassy in Thailand may have its own set of special rules and procedures.