Interested in Immigrating to United States?
Getting started is easy. Use our eligibility assessment form to call us today to speak to one of our U.S. immigration experts.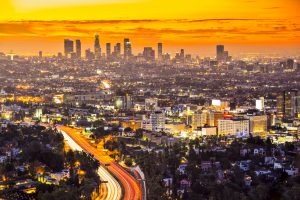 Interested in Immigrating to Los Angeles, California?
Los Angeles, California also known as "LA" lies in the basin in Southern California surrounded by beaches, mountains, and a multitude of opportunities. Los Angeles is home to 13.1 million people being the second largest metropolitan area after New York.
Los Angeles has a diverse economy and offers a wide range of professional and cultural fields while welcoming individuals from more than 140 countries speaking 224 different identified languages.
LA is one of a few cities in the US where there is not one majority ethnicity. The wide range of personalities, cultures, and perspectives gives LA the diversity that cannot be found in all states!
Immigrants in Los Angeles
Los Angeles County's immigration population is near its highest since 1870 with nearly 3.5 million immigrants which is the largest number in the region. Many immigrants in LA come from countries such as Mexico, El Salvador, Philippines, Guatemala, and Korea. Many come to Los Angeles specifically for the jobs and opportunties available.
Areas like Arcadia, Temple City and Walnut which are all outside the denser urban areas of the city of LA, rank in the top 10 cities for the largest increase in immigrant population since 1980.
Getting the right visa in the US can be complicated and timely but when you decide to relocate to LA, make sure that you start your paperwork long before your arrival. As visa regulations change from time to time, we strongly recommend that you always contact your local American embassy to ask for the exact rules and regulations regarding the application of a visa. 
Basic Immigration Paths:
Non-immigrant visa: Issued when you don't have intentions to settle in the US. You should be able to prove that you will return to your home country when the visa expires. These are some of the visas in this group

Visitor visa (If your country is listed in the visa waiver programmer, you won't have to apply for a visa)
Specialty workers who can show that they only wish to reside in the US for a certain period of time

Immigrant visas: It is mandatory to have a sponsor for this kind of visa, for example, a relative or an employer. These visas include:
Recently, Los Angeles declared itself a sanctuary city which is an important gesture of supporting the immigrant population and committing to protect their rights. Taking the lead on immigrant integration can make Los Angeles a model for welcoming immigrants culturally, politically, and institutionally!
Jobs Opportunities
Los Angeles is named the "Entertainment Capital of the World," but there are other industries that contribute to the cities economic development tremendously. Los Angeles is known for the entertainment and fashion industries so you don't see as many 9-5 jobs as you would in another state offering many job options.
LA's "gig economy" is something to consider when thinking about settling. From ride sharing to food delivery, app-based services are very popular in LA and create many job opportunities. Some work solely in the gig economy whereas others will sometimes supplement their income by picking up a few gigs here and there.
There are plenty of jobs that pay minimum wage. In LA, the minimum wage is currently $13.25/hour for employers with less than 26 employees and $14.25 for companies with more than 26 staff members.
Each year on July 1, the minimum wage will increase incrementally until it reaches $15 an hour, regardless of the number of employees, in 2021.
Cost of Living
Los Angeles is higher on the scale when it comes to cost of living compared to our states or communities. The median home price is $752,508 which will likely get you a two-bedroom, one bath in an average or below average neighborhood.
Some of Los Angeles top neighborhoods include:
Atwater Village
Beverly Grove
Culver City
Downtown Los Angeles
Transportation
There are other important things to take note of when moving to Los Angeles, for example, transportation. When choosing an area, ask yourself if the convenience of public transportation, crime rate and statistics, access to the freeways, and other items that may be high on your priority list. 
Owning a car in LA can be hard at times because of  heavy traffic but is currently working on improving their transportation services including the metro system that is already in place!
Climate
Los Angeles and its surrounding areas has a lot to offer with a span from snow-capped mountains to a tight knit city to long, lazy beaches. There is always something to do!
Los Angeles is known for its sunny, clear days that are cooled by the ocean breeze coming off the Pacific. 
On average, Los Angeles receives:
292 annual days of sunshine
35 annual days of rain
72 ° F (22 °C) average daily temperature
Education
Going to school until you're 18 years old is man dater in the State of California. Majority of children attend public schools which have a good reputation in California.
With English proficiency, children are easily able to attend public schools in your community that are free of charge. If your family is relocating often may be a good idea to send your children to a private international school where they can study languages and be around other diverse students.
Many individuals come to LA for higher education and is known for its excellence. Los Angeles is home to a few famous colleges and universities in the United States.
Top colleges/universitie:
Food, Activities, Sports
Activities: Los Angeles offers a combination of trails, beaches, and consistent great weather. Many individuals enjoy the numerous events help in LA and free activities including free museums.
Sports: LA teams participate in all five major professional sports leagues and hosts many sporting events throughout each season.
Foods: Every neighborhood in LA has a focal point of culture and express that in their food. Everything from Ethiopian to Persian food is available to heighten the LA experience.
USA Visa Procedures Have Been Made Easier for Canadians
Under the North American Free Trade Agreement (NAFTA), the doors have been opened for Canadians and businesses seeking to enter the US markets. As a result, US Work Visa applications for Canadian businesses and professionals are now being accepted through a streamlined process.
Want An Assessment to Know If You Qualify to Migrate to Los Angeles?
Our immigration lawyers have the knowledge to let you know if you will qualify to immigrate to Los Angeles, California.  Getting an assessment is easy, just contact us here and book an appointment that is convenient for you.  We will ask you series of questions and will spend about 15-30 minutes in a virtual meeting to determine if this would be a good fit for you and your family.
How Our Immigration Lawyers Can Help
If you plan on migrating to Los Angeles then you'll want an immigration lawyer who knows the in's and out's of US immigration. Our firm has offices through-out North America, but our corporate office is in Toronto.  Even though our main office is not located in Los Angeles, if you watch the video to the side, you will quickly see we are able to help anyone in the world immigrate to Los Angeles.
Our immigration lawyers have over 30 years combined experience and have successfully processed thousands of US visa applications. We are fully confident we can help you with your immigration matter too! You can get in touch with us here.
Once You Arrive in Los Angeles:
Once you arrive to Los Angeles and get settled in your new home, you may be interested in doing the following:
When you work with our immigration law firm we make sure we give and provide you with all the resources you'll need to settle properly in your new country.  If you are interested in immigrating to Los Angeles, be sure to contact our law firm to get an assessment of your case with one of our immigration experts.
Interested in Immigrating to Los Angeles?
Getting started is easy. Use our eligibility assessment form to call us today to speak to one of our U.S. immigration experts.