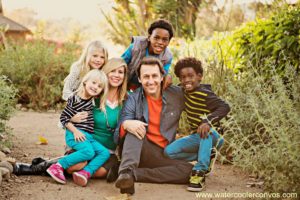 Thousands of US citizens adopt children from other countries but many people don't understand the process. Intercountry adoption is defined as the adoption of a child born in one country by an adoptive parent living in another country. US Immigration plays a huge role in the intercountry adoption process better known as immigration through adoption. Although there is not an adoption visa, the US offers three different processes by which someone may bring a child to the US through intercountry adoption. An individual may immigrate under one of these provisions only if the individual's adoption meets all the requirements of that specific process.
The Hague Process
The Hague Process is an international treaty that provides important safeguards to protect the best interests of children, birth parents, and adoptive parents in intercountry adoptions. This process is specifically for US citizens looking to adopt a child from Hague qualified countries who are deemed eligible for intercountry adoption.
Steps of the Process
Choose a Hague Accredited ASP (and perhaps also an immigration attorney).
Obtain a home study from someone authorized to complete a Hague adoption home study.
Apply to USCIS before adopting a child or accepting a placement for a determination that one is suitable for intercountry adoption.
Once USCIS approves the application, work with the adoption service provider to obtain a proposed adoption placement.
File a "petition" with USCIS, before adopting the child, to have the child be found eligible to immigrate to the United States based on the proposed adoption.
Adopt the child or obtain custody of the child in order to adopt the child in the United States.
Obtain an immigrant visa for the child.
Bring the child to the United States for admission with the visa.
Eligibility to Adopt
Once you have obtained a favorable home study, file Form I-800A with USCIS. To be eligible to file Form I-800A, you must meet the following requirements:
Be a US citizen
Habitually reside in the United States
If you are married, your spouse must also sign your Form I-800A and must also intend to adopt any child whom you adopt
If you are not married, you must be at least 24 years of age when you file your Form I-800A, and you must be 25 years of age when you file your Form I-800
The Orphan Process
The Orphan Process is simply allowing those to adopt an orphan from another country. An "orphan" is classified as a child that does not have any parents because of death, disappearance, or loss from both parents. Secondly, an orphan can be a child who has a single surviving parent who is unable to care for the child, consistent with the local standards of the foreign sending country, and who released the child for adoption. You may immigrate an adopted child through the Orphan Process if:
You are a US citizen (must be 25 years old when filing if not married. If you are married, your spouse must also sign Form I-600 and also adopt the child)
You establish that you will provide proper parental care to the child
You establish that the child whom you have adopted or plan to adopt is an "orphan" as defined in US immigration law
Who is an Orphan?
An orphan is a foreign-born child who:
does not have any parents because of the death or disappearance of, abandonment or desertion by, or separation or loss from, both parents OR
has a sole or surviving parent who is unable to care for the child, consistent with the local standards of the foreign sending country, and who has, in writing, irrevocably released the child for emigration and adoption
You must file an orphan petition before the child's 16th birthday, or before the child's 18th birthday if the child is a birth sibling of another child whom you have also adopted and who immigrated (or will immigrate) as:
an orphan based on a Form I-600 petition filed before the sibling's 16th birthday OR
an "adopted child" as defined in Section 101(b)(1)(F) of the Immigration and Nationality Act (INA) provided the actual adoption took place before that sibling's 16th birthday
Family-Based Petitions
Lastly, the family-based petition process provides a third option through which an adopted individual is considered the son or daughter of their adopting parent(s) for immigration purposes. You are also able to use this process to bring your adopted sibling to the United States.
There are differences between the Hague/Orphan processes and the family-based petition process:
Only US citizens can use the Hague and orphan processes to petition for an adopted child. These processes have different requirements from the family-based petition process.
Lawful permanent residents and US citizens can use the family-based petition process.
The family-based petition process is generally not available to children from Hague countries.
The adoptive parent petitioner must have evidence of full and final adoption and satisfy the 2-year legal custody and joint residence requirements before the adopted child may be considered their "child" for purposes of immigration benefits.
International Adoptions Agencies
To get you started, we provided a shortlist of international adoption agencies to check out:
Are You Interested in US Immigration by Adoption?
If so, Contact VisaPlace today. All our cases are handled by competent and experienced immigration professionals who are affiliated with VisaPlace. These professionals consist of lawyers, licensed paralegals, and consultants who work for VisaPlace Legal an award-winning immigration firm that adheres to the highest standards of client service.
Ready for the next step? Book your 1 on 1 consultation now or call us at 1-888-317-5770.
Have a Question related to your Immigration Needs?
Click here to fill out the FREE Immigration Assessment form below and get a response within 24 hours to see if you're eligible.
The assessment form should take approximately 5-7 minutes to complete. We will get back to you within one business day to let you know if we are able to help.