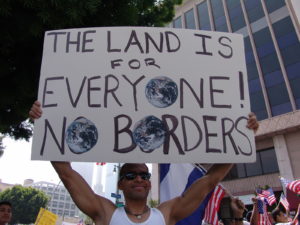 What is Section 1325?
Blease's law passed and became Section 1325 in the U.S. Code. For the first time in U.S. history, the law made it a crime for some people to cross the border. Section 1325 is set to incriminate offenses relating to (1)improper entry into the United State, (2)entry into marriage for the purpose of evading immigration laws and (3)establishing a commercial enterprise for the purpose of evading immigration laws.
Effects on US Immigration
People who cross the border without authorization will still be subject to administrative or legal proceedings for a civil violation if Section 1325 of the US Code were repealed. Immigration officials would decide whether a person is indeed unauthorized to be in the country and order deportation. When crossing the border without going through the proper channels, one may be arrested by the Department of Homeland Security at a port of entry or between these entry points by border patrol agents.
Officials may also decide to charge people they apprehend with a felony offense for "illegal reentry," or entering without authorization after a previous deportation, under Section 1326 of the US Code. The 1325 and 1326 Sections do not apply to people that are already present in the US illegally or who overstay a visa. In the first 10 years after Section 1325 passed, the U.S. used it to prosecute around 44,000 immigrants. However, this was a small number compared to the hundreds of thousands, if not millions, of immigrants who nativists rounded up and deported during the Great Depression.
When parents are charged with a civil offense, they may stay with their children pending a court hearing. But when a parent is charged with a criminal offense, such as under Section 1325, his or her children are held in civil detention centers while the parent is detained in federal prison facilities. Parents were not exempt from Section 1325 before the zero-tolerance policy, but adults in family units were not a priority for criminal prosecution. This allowed the Trump Administration to enact "zero tolerance" policies for migrants who crossed the southern border illegally. This includes the highly controversial family separation policy.
Possible Changes in US Section 1325
These prosecutions continued under presidents Barack Obama and Donald Trump. Section 1325 is the basis for the government's separation of parents from their children at the border and could become a major issue for the 2020 presidential election.
At the first Democratic Primary Debates on June 26, 2019, Julián Castro made headlines for calling on all of the party's candidates to join him in promising to repeal Section 1325. This is an ongoing debate and the possible change in Section 1325 is pending