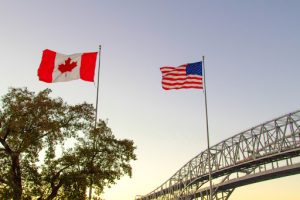 The United States Department of Homeland Security has made the decision to extend US border restrictions until September 21st, 2021 due to the increase in cases of the COVID-19 delta variant.
These restrictions have been extended every month since March of 2020, when DHS and its Canadian and Mexican colleagues restricted the borders to leisure tourists in order to minimize the spread of coronavirus.
The order's extension has no effect on the ability of US citizens currently in Canada to cross the border into the US.
When asked about the U.S. land border closure on the campaign trail, Canadian Leader Justin Trudeau said the two countries are coordinating closely, but pointed out that the border orders issued by Canada and the U.S. have been nonsimultaneous from the start.
On Friday, the US Department of Homeland Security tweeted "In coordination with public health and medical experts, DHS continues working closely with its partners across the United States and internationally to determine how to safely and sustainably resume normal travel."
For more information, visit our page: Travel Across the US and Canadian Border During COVID-19 Restrictions.
Do You Need Help Crossing the US Border from Canada?
If so, Contact VisaPlace today. All our cases are handled by competent and experienced immigration professionals who are affiliated with VisaPlace. These professionals consist of lawyers, licensed paralegals, and consultants who work for VisaPlace Legal an award-winning immigration firm that adheres to the highest standards of client service.
Ready for the next step? Book your 1 on 1 consultation now or call us at 1-888-317-5770.
Have a Question related to your Immigration Needs?
Fill out the FREE Immigration Assessment form and get a response within 24 hours to see if you're eligible.
The assessment form should take approximately 5-7 minutes to complete. We will get back to you within one business day to let you know if we are able to help.