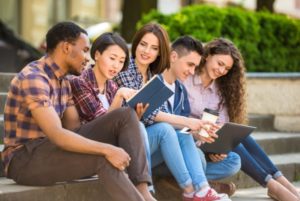 According to U.S. State Department officials, it appears that the United States is poised to grant the highest number of student visas in a single year since fiscal 2016.
The count of visas issued in fiscal 2023 has now surpassed 392,000. To provide context, in fiscal 2016, a total of 471,728 F1 visas were issued.
In comparison to fiscal 2022, where over 411,131 international student visas were granted, including F1 visas, the U.S. will need to issue more than 40,000 international visas by the end of September to surpass the prior year's numbers.
An F1 visa is intended for individuals attending academic programs or pursuing full-time degrees at U.S. educational institutions. Although the U.S. has a considerable way to go to reach the peak of over 644,000 student visas issued in fiscal year 2015, these figures provide optimism for sustained, long-term growth.
Last September, the Institute of International Education reported a significant recovery in international enrollment, with U.S. colleges experiencing a surge in admission applications following reduced international student enrollments in 2020 and 2021 during the pandemic.
Which Countries Have Been Getting the Most US Student Visas?
The countries witnessing the most substantial percentage increases in student visas issued from fiscal 2021 to fiscal 2022 are primarily of Asian origin. Notably, Uzbekistan secures the top spot on this list for the first time, while Nepal, Bangladesh, and Vietnam continue their upward trend in visa issuance. It's worth mentioning that all four of these nations have reached the highest levels of student visas issued in the past 25 years.
Simultaneously, the report indicates a surge in the number of African students being granted F1 visas in 2022, reaching unprecedented levels. Nigeria and Ghana, in particular, received the highest number of student visas in their respective histories during this period.
According to records from the State Department, the issuance of visas to African students in fiscal 2022 surpassed 30,700, marking a significant increase compared to previous years. This rise is particularly notable when considering the 21,037 visas issued in fiscal 2018, followed by 20,165 in fiscal 2019, a sharp decline to 7,333 in 2020 due to the pandemic, and a rebound to 23,229 in fiscal 2021.
Data from the 2022 Open Doors report and State Department statistics highlight China and India as the leading countries sending students to the United States, together constituting the majority, approximately 52%, of all international students in the country. In 2022, China remained the top contributor, with 290,086 students studying on U.S. campuses, representing a 9% decline year-over-year. Meanwhile, India claimed the second spot with roughly 200,000 international students, marking a notable 19% increase year-over-year.
In a statement, the State Department noted that in fiscal year 2022, U.S. Embassies and Consulates in India achieved a historic milestone by issuing over 125,000 new student and exchange visitor visas, establishing India as the second-largest source country for U.S. international students.
Are You Interested in Applying for a US Study Permit?
If so, Contact VisaPlace today. All our cases are handled by competent and experienced immigration professionals who are affiliated with VisaPlace. These professionals consist of lawyers, licensed paralegals, and consultants who work for Niren and Associates an award-winning immigration firm that adheres to the highest standards of client service.
Ready for the next step? Book your 1 on 1 consultation now or call us at 1-888-317-5770.
Have a Question related to your Immigration Needs?
Click here to fill out the FREE Immigration Assessment form below and get a response within 24 hours to see if you're eligible.
The assessment form should take approximately 5-7 minutes to complete. We will get back to you within one business day to let you know if we are able to help.