British Columbia for New Immigrants: Living Like a Local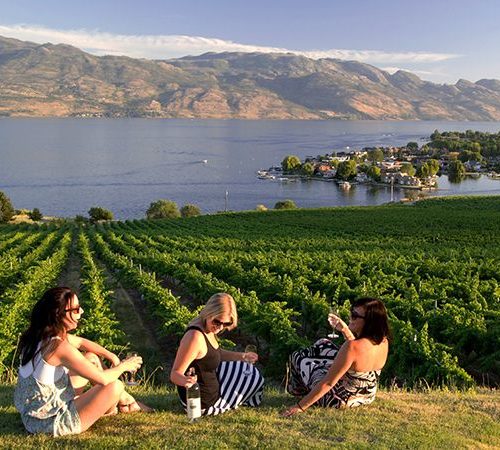 What It's Like to Live in British Columbia for Newcomers
The province of British Columbia is Canada's westernmost province! Internationally known for its remarkable natural beauty (there are six national parks), British Columbia is home to more than 4.6 million people. The most populous city in the province is Vancouver, Canada's third largest city, with a population nearing 2.5 million. More than 40,000 immigrants from around the world arrive in B.C. each year, and immigrants make up a high proportion of B.C.'s population. The vibrant multicultural atmosphere and excellent quality of life make B.C. a major destination for newcomers to Canada.
Learn about life in Nova Scotia below:
Top 5 Reasons Immigrants Move to British Columbia
Why the Locals Love British Columbia!
Nature

Vancouver is a perfect city to live in if you love nature. The Pacific Northwest region in general is known for its natural beauty and hikes, and the views all around are just amazing.

Public Transport

B.C. has many alternatives to help you get around the beautiful province. Some options for you include:

B.C. Transit: B.C.'s public bus system that services most areas. Visit B.C. Transit for more information about bus schedules in your region of study.
Taxis: are a fast and easy way to get around without the hassle of owning a vehicle. There are many taxi companies throughout B.C.
B.C. Ferries: will help you experience B.C.'s breathtaking ocean views. B.C. Ferries is a convenient way to get to the beautiful islands and inlets.
Car rentals: are found in most major cities in B.C. You must be a minimum of 21 years of age and have a valid license – other restrictions may apply so please consult with car rental companies.

Vancouver

This city has it all, from a wild nightlife to the beautiful Stanley Park. You will never run out of places to go and things to do. If you love the outdoors, you'd love Vancouver as it is home to nine beaches and plenty of ski slopes.

Music and Festivals

B.C. has some pretty amazing music festivals such as Pemberton, Rifflandia, and Shambhala. There's always a constant flow of fantastic artists making their way to Vancouver, which really makes the music scene something to admire.

Education

B.C.'s educational system is among the most respected in the world. B.C. is also home to a world-acclaimed transfer system, which means you can move easily from one qualification level to the next and from one post-secondary institution to another. This gives you the flexibility to choose the study path that best suits your educational goals.

Where Newcomers Eat and Drink in Vancouver, British Columbia
British Columbia has a high-spirited food and drink scene, with a huge variety of international influences and a strong focus on fresh farm-to-table menus. Restaurants serve everything from fresh salmon and sushi to raw foods and tapas.
Breweries and Bars:
1. The Keefer Bar – Being close to Chinatown, The Keefer Bar has full access to many locally sold exotic herbs and spices, which they use for bitters, syrups, and teas. The Keefer Bar is great for those wanting artisan cocktails loaded with an abundance of flavors.
2. Guilt & Co – Based in a intriguing, dark basement, Guilt & Co is the perfect scene for those looking for a bar and live music venue with local musicians. They specialize in their whiskey and bourbon drinks and offer a calendar on their website where you can check out a list of upcoming live acts.
3. The Diamond – One of Vancouver's top-rated cocktail bars, The Diamond's interior is full of elegance and class. However, the bar attracts a friendly, casual, neighborly atmosphere. You can be sure to find any kind of drink at The Diamond.
4. Six Acres – One of the city's most favorite gastropubs, Six Acres presents a list of local brews, a spectacular menu and tons of laid-back customers. Located in Vancouver's oldest brick building, the Alhambra, Six Acres offers outside dining on a patio for warm summer days and foods ranging from poutine to delicious veggie sliders.
5. The Narrow Lounge – Hidden down a graffiti-covered passageway, you will find this electric , dark lounge packed with only other people 'in the know' about this hidden hot-spot. Summers at the Narrow Lounge bring a colorful, tropical tiki patio best enjoyed with a fruity drink.
Restaurants:
1. Cafe Medina – A snug spot for coffee and a large daytime menu including waffles with unique toppings. It's very well-known in the Vancouver breakfast, brunch, and lunch scene.
2. Kingyo – A casual Japanese restaurant that introduces izakaya in an elevated setting. The interior is filled with inspired decor, and the restaurant offers inventive Japanese small plates and bento boxes.
3. Zest – Cozy, contemporary restaurant offering sushi, creative Japanese entrees & many wines.
4. Blue Water Cafe – Blue Water Cafe is Vancouver's definitive destination for seafood, widely known for its excellence in celebrating the extraordinary flavours of BC. Consistently awarded "Best Seafood Restaurant" in Vancouver and recognized for its unparalleled service, an evening at Blue Water Cafe is truly an unforgettable experience.
5. Dynasty Seafood – Intricate dim sum & elevated Chinese dishes served in an upscale setting with live-seafood tanks. Voted best restaurant in Vancouver multiple times by Vancouver Magazine.
Where Newcomers Shop in Vancouver, BC
Vancouver offers some of the best shopping in the world. For visitors, shopping is always near the top of the to-do list, and that's doubly true at the holidays.
The great thing about Vancouver shopping is its diversity, with different Vancouver neighbourhoods offering different wares, from the hip and fashionable to the inexpensive and eclectic.
When it comes to Vancouver shopping-particularly for fashion-it's hard to beat the world-famous Robson Street. On Robson, you'll find a wide variety of mid-range shops, ranging from international brand names like Zara and Banana Republic to Canadian retailers like Le Chateau and Plenty.
Home to high-end independent fashion–including the gorgeous menswear at Roden Gray and the perfect jeans at dutil denim–as well as the best interior design stores (Inform Interiors) in the city, Gastown is another premiere Vancouver shopping destination. You'll also find plenty of First Nations art galleries, antique shops, and streetwear, too.
Granville Island is the heart of Vancouver's craft and foodie community, Granville Island has a variety of shops selling handmade arts and crafts, First Nations art and collectibles and clothing and jewelry, plus great toys at the Granville Island Kids Market.
Events in Vancouver, BC
Celebration of Light: You haven't really seen fireworks until you've experienced Vancouver's Celebration of Light. One of the city's signature summer events, the festival lights up the sky over English Bay for three nights at the end of July. Three countries compete each year to wow Vancouver crowds, choreographing their spectacular displays to music as they're launched off a floating barge in the bay. Chrysanthemums, peonies and horsetails explode above the city, with a mighty crack that bounces of the mountains. Along with the fireworks themselves, the Celebration of Light kicks off each evening with an accompanying music festival down at Sunset Beach.
Vancouver Folk Music Festival: Every July, you'll find the people of Vancouver heading down to Jericho Beach for the Vancouver Folk Musical Festival, a major event on the world folk and roots music circuit, and one that might just change your mind about what constitutes "folk music." Both local talents and big-name international performers take to the eight outdoor stages for three days of soulful performance.
Cherry Blossom Festival: Thanks to over 40,000 cherry trees lining the streets of the city, crowds of visitors arrive in Vancouver each spring to celebrate the clouds of light pink blossoms that dominate our neighbourhoods during the season. Running from the end of March through to mid-April each year, the Vancouver Cherry Blossom Festival offers a cultural calendar full of opportunities to capture their beauty, including a line-up of arts events, community bike rides, cherry blossom viewing tours and traditional Japanese festivities.
Vancouver Craft Beer Week:
Established in 2010, this festival has grown to a week-long beer extravaganza of events that pair beers with delicious eats and great music, competitions and awards galas, as well as showcasing rare brews and interesting imports.
Sports in Vancouver, BC
There are so many ways for someone to stay active in Vancouver. Tons of places to boat, to fish and hike! Vancouver is also crazy for sports, especially the ones we've listed below:
Football: Vancouver is home to the BC Lions, the province's team in the Canadian Football League. Canadian football is closely related to American gridiron, but with some important differences, including the dimensions of the field, the number of downs, the number of players in a team, and time rules. Each season, nine teams from across the country battle each other from June to November, culminating in the championship Grey Cup game each fall, a uniquely Canadian tradition and the country's most- watched sporting event.
Hockey: The city's National Hockey League (NHL) team, the Vancouver Canucks, play home games at Rogers Arena in downtown Vancouver. Games are so popular, that most games sell out, but there are still ways to get tickets if you're serious about it.
Baseball: The city's minor league baseball team, the Vancouver Canadians play out at Nat Bailey Stadium – an old fashioned ballpark with a lot of character. The team plays from June through to September, and a warm summer evening in the stands cheering for the Canadians, an affiliate of the Oakland Athletics, is a lovely way to spend an evening. Tickets are very well-priced, making it a favourite among families.
Are you interested in living in British Columbia?
If so, Contact VisaPlace today. All our cases are handled by competent and experienced immigration professionals who are affiliated with VisaPlace. These professionals consist of lawyers, licensed paralegals and consultants who work for Niren and Associates an award winning immigration firm that adheres to the highest standards of client service.
Ready for the next step? Book your 1 on 1 consultation now or call us at 1-888-317-5770.
Have a Question related to your Immigration Needs?
Click here to fill out the FREE Immigration Assessment form below and get a response within 24 hours to see if you're eligible.
The assessment form should take approximately 5-7 minutes to complete. We will get back to you within one business day to let you know if we are able to help.
The content and comments of this blog are not legal advise and and may not be accurate or complete. If you require legal advice, contact a licensed legal practitioner directly. If you post on this blog, you assume full responsibility for disclosing your identity to the public and VisaPlace nor its affiliates are not responsible for protecting your privacy nor your identity concerning your participation in our blog and you assume any risks in participating.
Customer Reviews
I could not have asked for more! The VisaPlace team are extremely professional, they know their stuff. They gave me great information, prepared my work visa application and then prepared me for the submission process. I was successful. Got my visa. 5 stars! I would give them 6 if I could.
This is not an exaggeration!!! I was truly impressed with the way VisaPlace consultants handled my case. The consultants- Emily, Lauren, Takunda and Lisa, took their time to explain to me in great deal how they were going to approach my case and how they would handle setbacks, if any. Their professionalism and knowledge of the law were superb. The minor setback that came up was quickly addressed by the team. The team constantly kept me updated on the progress/status of my application; they quickly responded to my questions/concerns. They had predicated my permanent residency to be processed within 6 -12, and Indeed it was processed and completed within 6 months. Based on my personal experience, Emily and Lauren's team are the best! They deserve 5 stars!!!!!!!!!!!
VisaPlace helped me sponsor my husband to become a Permanent Resident of Canada. They were extremely professional. Every step along the way was explained fully and expertly taken care of. The staff responded immediately to any questions and always handled our concerns fully, taking as much time as we needed to understand where we were at in the immigration process and what to expect next. I would recommend VisaPlace with no hesitation at all. I'm sure if we had tried to navigate the immigration process ourselves, it would have been much harder.