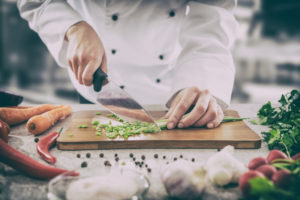 Every year, thousands of cooks and chefs from around the world come to the United States to expand their culinary knowledge and settle into a new home. The United States is known as the melting pot of the world, mixing endless ethnicities, nationalities, and cultures into the food industry. There is an endless amount of opportunity for culinary chefs and cooks in the United States.
What is a Chef Visa to the US?
It is important for petitioners to accurately describe cook and chef positions, as the Department of Labor (DOL) publications distinguish between the two positions. In general, chefs have more managerial responsibilities than do cooks, who primarily prepare food.
E-2 visa: Chefs holding managerial or specialist positions may be issued E-2 visas to work for a qualified E-2 enterprise. For example, a large Japanese-owned restaurant chain such as Benihana may employ a number of Japanese chefs using E-2 visas. A small E-2 qualified restaurant also may justify the employment of a chef in a managerial or specialist position. Chefs who start their own restaurants are often eligible for E-2 status as principal investors.
H-1B visa: In the past, the USCIS has held that chefs were not professionals or specialists. However, practice shows chefs employed by large hotels and prestigious restaurants may be granted H-1B visas. Usually, the foreign national must be primarily engaged in management duties as opposed to working in front of a stove. Expert testimony from a culinary professor or hospitality management academician is often needed to prove that the position is so complex that it requires a person's degree in culinary arts.
H-2B visa: Chefs may qualify for temporary positions during a busy season—for example, the employer is a ski resort and the position is for the winter season. Once the employer proves the position is temporary or seasonal the employer will be barred from sponsoring the foreign national for a permanent labor certification for that position.
J-1 visa: A young cook seeking exposure to how a restaurant operates in the U.S. may obtain a J-1 industrial trainee visa for up to 18 months. Many organizations have J-1 programs specifically accredited for training in the culinary arts.
L-1 visa: Chefs with management responsibilities employed by multinational companies should be eligible for L-1A visas. It is also possible that a specialized knowledge chef or cook could obtain an L-1B visa. For example, an international airline catering company may have unique processes, technologies, and procedures for preparing their food and delivering it to airplanes such that an employee with specialized knowledge is necessary.
O-1 visa: O-1 visas are available for chefs of extraordinary ability. Extensive evidence is required to show that the chef is a culinary artist of 'distinction' who is 'renowned, leading, or well-known in the field.
TN visa: Chefs are not included in the NAFTA Schedule of Professionals. Some chefs, however, may work from time to time as management consultants to advise on the design, building, opening, and advertising of new restaurants, as well as the menu planning. In this situation, a management consultant TN visa may be granted to a Canadian or Mexican chef. [NAFTA is under revision. NAFTA will most likely turn into the USMCA (the United States Mexico Canada Agreement). USMCA is expected to be approved at the beginning of 2019. Until then NAFTA will remain active and the visas under NAFTA are still available. Learn more about how to work under USMCA. ]
Famous Immigrant Chefs That Changed Food in America
Immigrants are extremely crucial to the food industry in the US. 70% of agricultural workers are migrants, as are 20-30% of the back-of-house staff at any given eatery. Many thousands of immigrants have come to America to pursue the American dream of opening their own restaurants, food trucks, street food stands, etc. There are several famous immigrant chefs that have shaped the way people in America eat out.
Giada De Laurentiis: Italian – Giada has her own cooking show on the Food Network since 2003. She immigrated to Los Angeles in 1977 with her mother and siblings. Giada didn't speak a word of English but learned it throughout American schooling.
Marcus Samuelsson: Ethiopian – Marcus was sent to Sweden as a refugee in the Ethiopian Civil War. He was then immigrated to Switzerland then Austria before landing in New York City. At the age of 24, he was the head chef at an NYC restaurant. Marcus currently has seven cookbooks and appears on Food Network.
Michael Mina: Egyptian – Michael was brought to America in the early 1970s. Michael grew up in Washington state where he started working in kitchens at the age of 15. By the time he was 19, he was working in NYC kitchens. Michael now has two dozen restaurants, cookbooks, food trucks, and a whole culinary empire.
Wolfgang Puck: Austrian – Wolfgang moved to America when he was 24. He wound up in Los Angeles working in several restaurants learning many techniques that would shape the LA food scene. He's parlayed his talents into too many restaurants to bother counting, boxed meals, schools, books, kitchen accessories, shows, and every facet of a full-on culinary empire you can fathom.
Cecilia Chiang: Chinese – Cecilia headed to America in her 40s to open up a northern Mandarin Chinese cuisine restaurant. This restaurant is now called P.F. Changs which is one of the biggest sit-down Chinese restaurants in America. Chiang's influence and lineage of chefs, waiters, and restaurateurs is a deeply rooted part of our heritage.
Applying for a US Work Visa for Chefs? We Can Help
While these steps are largely straightforward, it can be difficult to navigate both the job market and immigration system in a new country. Luckily for you, we are here to help you get your US work visa. We have helped thousands of people get their US work visas and we can help you, too.
All you have to do is fill out our free immigration assessment form and we will get back to you within 24 hours to discuss your eligibility for a US work visa for chefs and cooks.