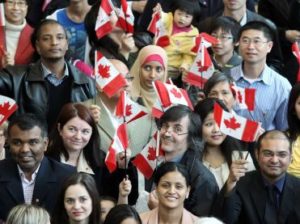 Those who wish to immigrate to Canada to become a Permanent Resident must be invited. An Invitation to Apply (ITA) is an invitation that allows some people who submitted a profile to Express Entry to apply for permanent residence. The ITA is a document issued by Immigration, Refugees, and Citizenship Canada (IRCC).
Those individuals who have been invited may immigrate to Canada with their accompanying family members including their spouse/common-law partner and their dependent children.
How to Get an Invitation to Apply for Permanent Residence
In order to receive an ITA, a candidate must be eligible to immigrate by meeting the minimum requirements for the Express Entry pool. The candidate will be assessed by their Comprehensive Ranking System (CRS) score. The CRS score ranks an individual by their:
skills
education
language ability
work experience
Accompanying spouse or common-law partner factors
and more
The invitations to apply (ITA) will be given to those with the minimum or higher CRS score of that specific Express Entry draw. Each draw whether it is through a PNP or Express Entry have a minimum CRS score, those with a ranking CRS score higher than the published one, will receive an invitation.
What Should I Do After I Receive an ITA
Once you receive an ITA there is a 60 day period where you must apply and submit all the required supporting documents. With the 60 day period being only about 2 months, it is important that candidates begin to collect and organize the required documents before receiving an ITA. That way if a candidate receives an ITA they will be able to apply and submit their documents right away. If a candidate does miss the 60 day period to apply they will be to re-enter the Express Entry pool and start over.
Required Documents to Apply for Permanent Residence
Those who receive an ITA will be required to submit required documents along with their application. The following are the main required documents to submit for permanent residency:
Valid passport
Birth certificate
Language test results
Documentation attesting to work experience
Police clearance certificate(s)
Upfront medical receipt
Photographs of principal applicant and family members
There are several PNP programs that require further documents such as:
Canadian Education Credential OR Educational Credential Assessment (ECA)
Letter of attestation
Official transcripts of post-secondary education study program courses taken
Secondary education documents
Original letter from a Canadian employer indicating an offer of arranged employment
Proof of family relationship(s) in Canada
Proof of settlement funds
Legal documents showing changes in name or date of birth
Marriage certificate(s)
Signed Statutory Declaration of Common-law Union and documents attesting to cohabitation for a period of at least 12 months
Divorce or annulment certificate(s)
Death certificate(s) for former spouse(s) or common-law partner(s)
Children's birth certificates
Adoption papers
Proof of full custody for children
Travel documents (non-passport)
Certified copy of a certificate of qualification in a skilled trade occupation issued by a Canadian provincial/territorial authority
Copies of work contracts and/or pay stubs
Documents relating to income taxation
How to Decline an Invitation to Apply for Permanent Residency
In the event that a candidate wants to decline an Invitation to Apply, they will have their profiles put back into the Express Entry pool. That candidate will be considered for future Express Entry rounds of invitations. If someone does decline an invitation, they are not guaranteed that they will receive another invitation.
Are You Interested in Becoming a Permanent Residence of Canada?
If so, Contact VisaPlace today. All our cases are handled by competent and experienced immigration professionals who are affiliated with VisaPlace. These professionals consist of lawyers, licensed paralegals, and consultants who work for Niren and Associates an award-winning immigration firm that adheres to the highest standards of client service.
Ready for the next step? Book your 1 on 1 consultation now or call us at 1-877-296-0874.
Have a Question related to your Immigration Needs?
Click here to fill out the FREE Immigration Assessment form below and get a response within 24 hours to see if you're eligible.
The assessment form should take approximately 5-7 minutes to complete. We will get back to you within one business day to let you know if we are able to help.