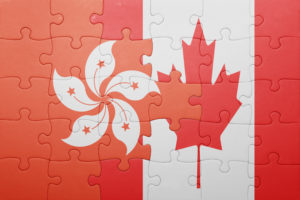 Many Hong Kongers are seeking refuge from the ongoing protests within their country. Several Canadian groups are urging the Canadian government to allow refugees to immigrate to Canada to help those stuck in Hong Kong.
November 16 Update: On November 12, 2020, Minister Marco Mendicino announced new measures that will attract students and youth from Hong Kong to live in Canada by offering a new open work permit and expanding their pathways to permanent residency. learn more about the new addition to the 2021-2023 Immigration Levels Plan.
October 9 Update: As many Hong Kongers are fleeing the former British Colony due to Beijing's crackdown, Canada has started to accept pro-democracy activists as refugees also known as "Convention refugees"
Under Canadian law, Convention refugees are referred to the United Nations Convention relating to the Status of Refugees and is known as someone who cannot return to their home due to well-founded fear of persecution based on race, religion, political opinion, or the factors.
This began with a letter to a Hong Kong couple September 1st, who were granted immigration to Canada as convention refugees and their claims of asylum were accepted.
Canada's Rules for Hong Kong Citizens
Unfortunately, even though immigration professionals have urged the Canadian government to change the rules for Hong Kongers there has been no indication that they will make exceptions for citizens of Hong Kong. Australia and Britain have offered visas to Hong Kong citizens which is why Canada was expected to follow the trend.
In response to people wondering if Canada will follow lead and offer a safe haven for Hong Kongers, Ottawa released a statement:
"All eligible asylum claimants receive a full and fair hearing on the individual merits of their claim at the Immigration and Refugee Board of Canada. Canada has always been a welcoming society and we will continue to open our doors to newcomers, including those fleeing persecution, terror and war."

Kevin Lemkay, press secretary to Immigration Minister Marco Mendicino
Historically, Canada has stepped up to accommodate citizens of countries in turmoil. In 1989 Canada allowed thousands of Chinese citizens to immigrate to Canada due to the Tiananmen Square massacre. Then in 2015 and 2016, Canada allowed 25,000 Syrian citizens to find refuge in Canada.
Hong Kong has many young, driven, well-educated workers that Canada could highly benefit from. Many immigration lawyers are hoping that Canada will create a quicker way for these Hong Kongers to immigrate. For now, there are traditional ways for them to immigrate to Canada.
How to Immigrate to Canada from Hong Kong
Since there are no new rules or programs for Hong Kongers to immigrate to Canada there are the many traditional ways to immigrate. If you are interested in immigrating to Canada, read more about moving to Canada from Hong Kong.