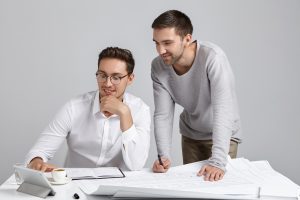 Many foreign workers come to the United States each year obtaining permanent and temporary statuses to reach their immigration goals. Most of these individuals want to eventually make the US their permanent home but come for a temporary stay first to either test it out or because they didn't qualify for a US Green Card. Luckily some work visas, like the H-1B Visa, are considered "dual intent" which means they were created to build pathways to permanent residency for foreign workers. We gathered the four major steps within this H-1B to green card process which you can learn more about below!
Related Article: Getting a Green Card in the United States
When Should I Apply for a Green Card?
We are asked when the best time to apply for a green card as an H-1B visa holder often and the answer is simply when your US employer is ready to sponsor you. Usually, this is after a couple of years of having your H-1B visa or else your employer would've just sponsored you for a green card to begin with! This process from start to finish can take anywhere from 6 to 18 months to process so it's better to start sooner than later and never close to your H-1B visa expiry date.
Step 1: Find a qualified US employer to sponsor you
When making the transition from H-1B to green card, workers are either currently employed by a qualified US employer or are seeking a job with a qualified employer to petition them for a green card. In most cases, this process is easiest when you've worked in the US for a few years for an employer you know is qualified and but are now ready to sponsor you for a more permanent role.
Step 2: Employer must obtain a PERM labor certification
Receiving a PERM labor certification is a super important step to your H1B to green card process and it's something your employer needs to do themselves! A PERM labor certification which stands for Program Electronic Review Management is a test that needs to be submitted to the US Department of Labor ensuring there aren't any jobless US residents that are willing, qualified, or available to do the job and they check that no one's wages are being affected by you taking the job. Employers will need to only pay associated fees when submitting their Form I-140 to the USCIS which brings me to my next step!
Step 3: Employer submits a Form I-140
After your employer's PERM labor certification is approved, they will need to submit a Form I-140 (Immigrant Petition for Alien Worker) which is the petition for you to work in the United States. This form must be submitted with the approved PERM labor certification. If your petition is approved, then the USCIS will send you an approval notice which indicates that you can move to the next stage of your green card application process. As soon as the USCIS receives your petition, that date is your priority date which is essentially your spot in the queue to receive a green card.
Step 4: Submit a Form I-485
Once you have reached your priority date, you will need to submit Form I-485 which is your permanent residency/adjustment of status petition. If it is approved, then you will receive your green card. Good luck!
Do You Want to Adjust Your H-1B to Green Card?
If so, Contact VisaPlace today. All our cases are handled by competent and experienced immigration professionals who are affiliated with VisaPlace. These professionals consist of lawyers, licensed paralegals, and consultants who work for VisaPlace Legal, an award-winning immigration firm that adheres to the highest standards of client service.
Ready for the next step? Book your 1 on 1 consultation now or call us at 1-877-296-0874.
Have a Question related to your Immigration Needs?
Fill out the FREE Immigration Assessment form and get a response within 24 hours to see if you're eligible.
The assessment form should take approximately 5-7 minutes to complete. We will get back to you within one business day to let you know if we are able to help.