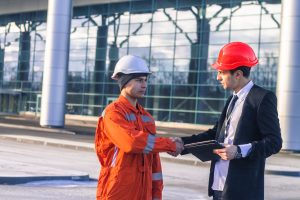 Many foreign nationals looking to immigrate to the United States to work are oftentimes asking more questions about the job offer requirement. This is a very important part of your US work visa application process as it's the main requirement to qualify. Program Electronic Review Management is an online processing system for filing labor certification applications. Under this system, labor certification applications are filed directly with the US Department of Labor (DOL). This is considered the first step for specific foreign nationals to obtain an EB Visa (employment-based green card) in the United States. The visas include:
Do I Need A PERM Labor Certification?
You as the worker applying for the EB visa specifically do not need a labor certification, your petitioning employer does! Before applying for your visa, your employer will need to complete an ETA Form 9089 and submit it to the DOL. The DOL will then make sure that there aren't any jobless US residents that are willing, qualified, and available to do the job. They will also check that no one's wages are being affected by you taking the job. There is no cost for employers to petition a worker and apply for a PERM labor certification. Employers will need to only pay associated fees when submitting their Form I-140 (Immigrant Petition for Alien Worker) to the USCIS.
What is PERM processing time?
The processing time for a PERM labor certification solely depends on if the business/employer is going to be audited or not. Currently, the average wait time for those that do NOT need to be audited can recieve their labor certification within 90 days.
Being Audited for a PERM Labor Certification
If your company as an employer is being audited in order to recieve a PERM labor certification, listen up! Supporting documents are not needed to file BUT they need to be ready prior to filing. This means anything such as website printouts, job orders, etc. should be saved by the employer for 5 years to ensure compliance with a potential audit or review. If the case is selected by the DOL for auditing, the employer should submit all requested documents to the DOL within 30 days. If the employer does not respond to the audit request, the case could be abandoned and the employer may be required to conduct "supervised recruitment" for any future Labor Certification applications.
What Happens After PERM is Approved?
Once a PERM application is approved by the DOL, the employer must file a Form I-140 Immigrant Worker Petition with the USCIS within six months of the approval date. The USCIS processing time for an I-140 Petition is typically 4 to 6 months.
How do I know if my PERM is approved?
If you are interested in checking the status of your labor certification, you can visit the DOL website and use their Foreign Labor Certification Case Status Check.
Do You Need US Immigration Help?
If so, Contact VisaPlace today. All our cases are handled by competent and experienced immigration professionals who are affiliated with VisaPlace. These professionals consist of lawyers, licensed paralegals, and consultants who work for VisaPlace Legal an award-winning immigration firm that adheres to the highest standards of client service.
Ready for the next step? Book your 1 on 1 consultation now or call us at 1-877-296-0874.
Have a Question related to your Immigration Needs?
Fill out the FREE Immigration Assessment form and get a response within 24 hours to see if you're eligible.
The assessment form should take approximately 5-7 minutes to complete. We will get back to you within one business day to let you know if we are able to help.