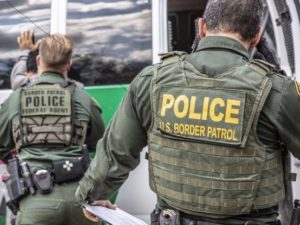 What Are the Consequences of Accidentally Crossing the US or Canadian Border?
For people living in the United States or Canada, accidentally crossing the border that separates the two can be more common than one would think. So, if you're planning a trip close to the border and there is even the slightest chance you may end up in another country or at the border itself without intent, there are some things you need to keep in mind.
What Should I Make Sure I Have with Me At All Times?
Valid Proof of Citizenship and ID
A U.S. passport, passport card or NEXUS card all serve as proof of both citizenship and identification. Of these, a passport is the best choice, because it's the only universally accepted travel ID. If you don't have one of these three documents, you can cross the border using your government-issued photo ID and one of the following documents to prove your citizenship: A U.S. birth certificate, certificate of citizenship or naturalization, permanent resident card or certificate of Indian status.
If You Are Travelling with Children
If you're traveling with children under 16, they only need to present proof of their U.S. or Canadian citizenship at the border crossing. That said, officials are on the lookout for kidnapped or trafficked children, so be ready for some increased scrutiny when you travel with kids. If either of the custodial parents is not present – or if you're not a custodial parent or legal guardian of the child you're traveling with – bring a consent letter from the absent parent(s). The letter should state that you're authorized to travel with the child and include both parents' full names, addresses and telephone numbers.
Do NOT Be A Threat to the Country
You may have heard that people convicted of driving under the influence can't cross into Canada or the United States. That's generally true, but it applies to other crimes too. Authorities reserve the right to deny entry to people with a criminal record including offenses like theft, assault, manslaughter, dangerous driving, driving while under the influence, and possession or trafficking of controlled substances. However, they can still let you in under certain circumstances, which usually boil down to convincing the border officers that you meet their legal definition of having been rehabilitated.
What Could Happen If I Crossed the Border on Accident Without the Right Documents?
Canada
When the officers pick you up as an American citizen they will do an assessment, if it is very obvious that this is the case of an honest mistake they may allow you to self deport and simply take you back to the border and hand you over to the US border guards. Otherwise you will be arrested and charged and deported back to the US, you will have a Canadian criminal record that will make it very difficult to ever enter Canada legally again.
Canada wants rid of you as soon as possible so if you are smart and waive extradition rights this may happen relatively fast, a couple of days or less, that is if they don't think there were other criminal issues involved such as drug smuggling. If not, you will be held in a Canadian prison until you go through the legal process, at this level there is no separate immigration detention system, you will be in with the regular prison population where there's almost no way you would be eligible for bail.
United States
The United States border patrol is similar to Canada's except for the fact that it tends to be more strict. It is very uncommon for U.S. officers to be lenient on those who claim they have crossed over the border from Canada to the U.S. accidentally without the correct documentation. In recent cases, people who have crossed into the United States unknowingly have been arrested and taken into custody and put into an immigration detention center. It is unknown how long you may have to stay there for before heading back to Canada. In some cases, if you were in Canada on a visitor visa, they may even wait to send you back to your home country.
Examples of People Who Have Had Trouble At the Border
A vacationing British family who crossed the U.S.-Canada border without authorization has been deported after spending nearly two weeks in federal detention, according to a lawyer for the family.
David Connors, 30, and his wife Eileen, 24, say they were driving near Vancouver with five others (including their baby) when they accidentally crossed the border into the United States. The couple claims they were trying to avoid an animal on the road. They were then pulled over by a U.S. agent and arrested. The Connors say they were were not given a chance to explain their mistake and when they requested to "simply turn around" and return to Canada, they were denied.
The family was taken into custody in Washington state on Oct. 3 and then, on Oct. 5, transferred all the way across the country to the Berks Family Residential Center outside Reading, Pennsylvania, where they say they were "treated like criminals" under the supervision of Immigration and Customs Enforcement.
"During processing, record checks revealed two of the adults were previously denied travel authorization to come to the United States. Attempts were made to return the individuals to Canada, however, Canada refused to allow their return and two attempts to contact the United Kingdom consulate were unsuccessful," a statement read.
A French citizen, Cedella Roman, was visiting her mother and studying English, when the family headed to White Rock, about an hour's drive from Vancouver in May. As dusk approached, the 19-year-old went for a jog along the beach. She swerved on to a dirt path as the tide came in, stopping briefly to snap a photo of the stunning scenery before turning around to retrace her steps.
She was then stopped by 2 border patrol agents who began to tell her she crossed the border illegally.
She hadn't seen any signs marking the border, she said. "I said to myself, well I may have crossed the border but they'll probably only give me a fine, or they'll tell me to go back to Canada or they'll give me a warning."
Complicating matters was the fact that she didn't have any government-issued ID or travel permits on her at the time. She was then taken to an immigration center in the U.S..
Two weeks passed before immigration officials in Canada and the US were able to confirm that Roman was eligible to return to Canada.
Why Hire Us to Help You With Your Denied Entry Case?
For over 15 years, we have helped countless individuals who thought they had no hope in entering the States due to a refused entry with their cases. Our experience with immigration law has allowed us to help individuals enter the U.S., who otherwise would have not had the opportunity.
Are You Coming to the US and Are Worried About Being Denied Entry?
If so, Contact VisaPlace today. All our cases are handled by competent and experienced immigration professionals who are affiliated with VisaPlace. These professionals consist of lawyers, licensed paralegals and consultants who work for Niren and Associates an award winning immigration firm that adheres to the highest standards of client service.
Ready for the next step? Book your 1 on 1 consultation now or call us at 1-888-317-5770.