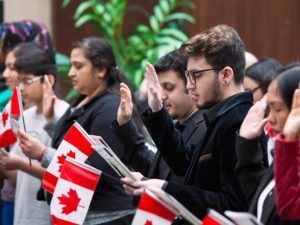 Taking the Oath of Citizenship at a citizenship ceremony is your final step to become a Canadian citizen. Roughly 170,000 immigrants take the oath each year, according to official estimates.
The Oath of Citizenship is a solemn declaration that citizenship applicants who have been granted citizenship take, promising to obey Canadian laws while fulfilling their duties as Canadian citizens. Taking the Oath means embracing Canadian values and traditions while pledging allegiance to Canada as a democratic constitutional monarchy.
Recently, a federal court has ruled that newcomers must take the oath, not simply complete the rest of the citizenship test, to become Canadian citizens.
Justice Simon Noel stated, "Becoming a Canadian citizen is a privilege. It is a privilege that is only conferred when the oath of citizenship is taken, these 43 words signifying adherence to our constitution and our country."
"I do not agree with this interpretation where the oath of citizenship is only a 'formality'," he wrote. "An applicant for Canadian citizenship must, until the end of the process, demonstrate on request the truthfulness of all the facts underlying the application. An applicant does not acquire an absolute right to citizenship following the granting of a certificate."
Are You Interested in Becoming a Canadian Citizen?
If so, Contact VisaPlace today. All our cases are handled by competent and experienced immigration professionals who are affiliated with VisaPlace. These professionals consist of lawyers, licensed paralegals and consultants who work for Niren and Associates an award winning immigration firm that adheres to the highest standards of client service.
Ready for the next step? Book your 1 on 1 consultation now or call us at 1-888-317-5770.
Have a Question related to your Immigration Needs?
Click here to fill out the FREE Immigration Assessment form below and get a response within 24 hours to see if you're eligible.
The assessment form should take approximately 5-7 minutes to complete. We will get back to you within one business day to let you know if we are able to help.