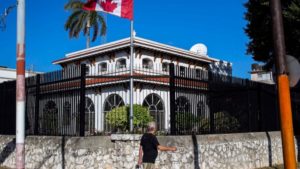 Canadian Embassy in Cuba Near Me
Havana
Street Address:
The Canadian Embassy
Immigration Section
Calle 30 No 518 esquina a 7ma avenida,
Miramar
Havana
Mailing Address For Canadian Embassy in Cuba
The Canadian Embassy
Immigration Section
P.O. Box 6125
Havana
Cuba
Tel.: (53-7) 204-0109 / 0110
Fax.: (53-7) 204-1069
E-mail Address: Havana-im-enquiry@international.gc.ca
Website: www.canadainternational.gc.ca/cuba/
Additional information about this Canadian Embassy in Cuba:
Unlike the United States, Canada does not have any business or travel restrictions with Cuba and has enjoyed a friendly relationship with the country since the 1940s. Canada also provides the largest amount of tourists to Cuba, about 800,000 per year, about 35% of their annual tourists.
Why You Should Contact a Lawyer First
It is important to remember that when applying for Canadian Immigration, you are required to submit your application to the Canadian Embassy of your nationality. However, there are some exceptions to this rule. You should always contact an immigration lawyer to assist you with the procedures associated with the Canadian Embassy of your region because the Canadian Embassy in Cuba may have its own set of special rules and procedures.