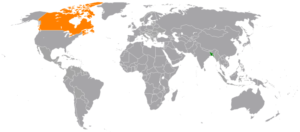 Canadian Embassy in Bangladesh – Dhaka
If you are interested in Canada immigration from Bangladesh refer to the Canadian Embassy in Bangladesh below.
Street Address:
High Commission of Canada
7 Madani Avenue
Baridhara, Dhaka 1212
Bangladeshy
Mailing Address For Canadian Embassy in Bangladesh:
Canadian High Commission
Immigration Section
G.P.O. Box 569
Dhaka
Bangladesh
Tel.: (88-02) 988-7091-7
Fax: (88-02) 882-3639
E-mail Address: bangladesh-im-enquiry@international.gc.ca
Website:http://www.dfait-maeci.gc.ca/bangladesh
Additional information about this Canadian Embassy in Bangladesh:
Canada and Bangladesh have similar values when it comes to democracy and have a long-standing tradition of immigration, trade and investment relations. The Bangladeshi community in Canada is significant – over 100,000 people – and is credited with diversifying the Canadian population while helping Canada grow as a country.
Should You Contact a Lawyer First…?
It is important to remember that when applying for Canadian Immigration, you are required to submit your application to the Canadian Embassy of your nationality. However, there are some exceptions to this rule. You should always contact an immigration lawyer to assist you with the procedures associated with the Canadian Embassy of your region because the Canadian Embassy in Bangladesh may have its own set of special rules and procedures
[gravityform id=1 name=Havea Question? ]