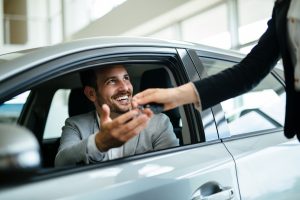 When making the move to a new country, there are a number of things a new resident may need and/or want to do to make settling in a bit more convenient. A big step many newcomers take is getting a driver's license and buying a car for transportation reasons. Although public transport is available in many provinces, some cities are better suited for personal vehicles. In order to legally own a car a new or used car in Canada, everyone will need to secure three documents:
a driver's license
car insurance, and
vehicle registration
Here are the main steps when buying a car in Canada!
Finding a New/Used Car to Buy in Canada
Buying or leasing a vehicle can be done before or after obtaining your driver's license as it depends on the buyer's personal position. When beginning you search, there are a few things you will need to ask yourself:
Am I buying or leasing?
What can I afford?
What kind of vehicle works best for my transport reasons?
Buying vs. Leasing
When deciding to lease or buy your vehicle, it really depends on your individual financial abilities and what you prefer. Leasing a car is sometimes referred to as a long-term rental where as buying means you fully own it until you don't! When getting a car from an independent seller, you will most likely be buying the car compared to a dealership where you are given leasing options. A car lease allows one to drive a vehicle from a dealership for an agreed upon amount of time and miles, and pay for its usage rather than for the full purchase price of the vehicle.
Apply for a Canadian Driver's License
Depending on which province you plan to settle in, you will be given a specific set of directions to obtain a driver's license. This step is usually first and can be done before or after finding a car, you just won't be able to drive the car until you successfully get a license.
Transferring Your License to Canada
If you already have a driver's license in the country you are coming from, you may have the chance to exchange it for a Canadian license with your previous driver's license. If this is something you're interested in, it's important to look into each province's driver's license requirements!
Related Article: How To Get A Driver's License in Canada as an Immigrant
Get Car Insurance for Your Vehicle
Having car insurance when driving in Canada is mandatory. If you regularly drive a car that belongs to a relative or friend, you should make sure you're listed on their car insurance plan.
You can get different types of car insurance plans, including coverage for either or both:
injuries to yourself and damage to your car or
the costs of damages and injury to others if you're at fault in an accident
Your car insurance cost depends on the plan you choose and your:
age
driving record
living location
driving experience
The cost also varies between insurance companies. For this reason, you should:
make sure you understand what each plan covers
contact a few companies for details about the price of their insurance plans
Register the Vehicle
To legally drive your vehicle in Canada, you must register your car which may be done for you depending on how you got the car. If you are getting your car from a delaership, usually the registration process will be done for you! In comparsion, when buying from a private seller, you will need to do this yourself. You will need your driver's license, proof of car insurance, vehicle permit, and signed transfer of ownership to do so!
Are You Interested in Immigration Help?
If so, Contact VisaPlace today. All our cases are handled by competent and experienced immigration professionals who are affiliated with VisaPlace. These professionals consist of lawyers, licensed paralegals, and consultants who work for VisaPlace Legal, an award-winning immigration firm that adheres to the highest standards of client service.
Ready for the next step? Book your 1-on-1 consultation now or call us at 1-877-296-0874.
Have a Question related to your Immigration Needs?
Fill out the FREE Immigration Assessment form and get a response within 24 hours to see if you're eligible.
The assessment form should take approximately 5-7 minutes to complete. We will get back to you within one business day to let you know if we are able to help.