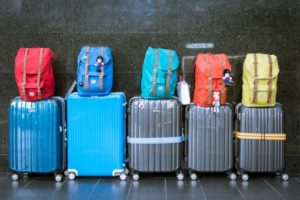 Choosing to visit or immigrate to the United States involves carrying the right documentation to clear Customs. Sometimes you will only need a passport but other times a visa may be required. Often visa applications can be a long process but ultimately being able to fulfill your dreams to move or visit the US is worth it. This article will focus on what happens after you have been granted your visa, specifically, the process of actually landing in the US on a plane. While traveling can be stressful, preparing beforehand can make it a smoother process.
1. Clearing US Customs:
The first step after you land is to clear US Customs and Border Protection. This organization is run by the US government and is designed to ensure that everyone entering the US is doing so legally. Customs is run by the Department of Homeland Security. Typically, when you land at an airport and disembark, you will follow signs for US Customs. When you arrive at Customs, you will need to have your passport, visa and any other relevant documentation ready to show the immigration officer. Usually, you will need to fill out a questionnaire that tells the immigration officer where you have just flown in from and if you are bringing in any goods that will need to be declared (seeds, plants, and agricultural products will need to be declared). After completing the information, you will take your documentation and your form to the immigration officer. The immigration officer's job is to review your documentation and they will typically ask you a few questions about your stay in the US. If you are interested in learning more about the specific types of questions you might need to answer, check out our article on the Secrets to Get Through Customs Successfully in 2024.
From Canada:
When flying to the US from Canada, you will actually go through Customs while still in Canada. This will happen after you go through the airport's main terminal security. Once you clear security, you will proceed through US Customs. The process is similar in that you will need to present your paperwork and a completed form to an immigration officer at the Canadian airport. After clearing Customs, you will be able to proceed to your terminal and board your flight to the US. In the United States, you will land in a domestic terminal and do not need to complete Customs after disembarking.
2. After Customs:
Once you have successfully cleared Customs, you will leave the secure terminal and enter the baggage claim area. At this point, you will be able to collect any luggage that you have checked. In some cases, the baggage claim area may be before you clear Customs. You will need to collect your luggage and then go through Customs. After collecting your luggage, it is time to make your way to your first destination. Most airports will have several different options for transportation. It can be a good idea to research where the airport you are flying into is located with respect to your destination. Do not accept rides from people that are offering inside the terminal. These can be unlicensed drivers or scams. Make sure you are in the legitimate Cab line or the designated spots for ride-sharing apps. For example, if you are flying into John F. Kennedy Airport located in Queens, New York but are staying in Manhattan, you will have a few options available to you. A cab or Uber/ Lyft can be a direct route to your hotel. In order to catch a cab, you will need to find the designated taxi stand and wait for a cab there. There will also be a designated area for Ubers and Lyfts. There is also an air train which takes you to a subway station and from there you can catch a train into the city. After a long flight, already knowing how you will be leaving the airport can help make the experience more enjoyable.
If you have a visa that allows you to live and work in the US rather than visit, you might be curious about settling in the US. There are many things that you will want to do once you have settled. These include finding long-term housing, opening a bank account and applying for a Social Security number.
Do You Want To Visit or Move to the US in 2024?
If so, Contact VisaPlace today. All our cases are handled by competent and experienced immigration professionals who are affiliated with VisaPlace. These professionals consist of lawyers, licensed paralegals and consultants who work for Niren and Associates an award winning immigration firm that adheres to the highest standards of client service.
Ready for the next step? Book your 1 on 1 consultation now or call us at 1-877-296-0874.
Have a Question related to your Immigration Needs?
Click here to fill out the FREE Immigration Assessment form below and get a response within 24 hours to see if you're eligible.
The assessment form should take approximately 5-7 minutes to complete. We will get back to you within one business day to let you know if we are able to help.