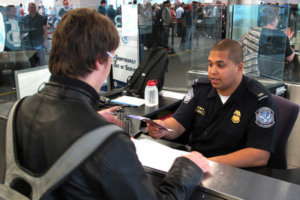 Coming to the US for leisure or work can be an exciting adventure but there is one thing that everyone can agree on, no one enjoys clearing customs. Regardless of what country you're traveling from, everyone still has to answer to custom officers once you've arrived in the United States. Typically everyone dreads clearing customs but if you are prepared for their questions and searches it can be a relatively quick and easy process.
Questions US Customs Can Ask You
1. Can I have your passport?
2. Where are you flying in from?
3. What is the purpose of your visit?
4. Where are you going to be staying?
5. How long do you intend to stay?
6. Do you have a return ticket?
7. Do you have anything to declare?
8. What is your occupation?
Things You Should Not Say at Customs
1. "I'm not sure where I'm staying"
2. "I don't know how long I'll be here"
3. "I'm nervous"
4. "I'm not sure if I have any agricultural products"
5. Just don't be rude to the officer!
Tips to Get Through Customs Smoothly
1. Don't bring agriculture into the United States from another country.
2. Always carry a photo of your passport in case you lose your passport while traveling or download the Mobile Passport app.
3. Fill out your customs form while on the plane, don't wait till you're in front of the officer to do so.
4. If you aren't sure if you should declare an item, just do it. The officer will not like your "I didn't know if I should" answer.
5. Don't bring back too much alcohol.
6. Have your papers ready: Visas, passport, customs form, return tickets, hotel reservations, etc.
7. Be prepared to have them go through your social media for any possibilities of incorrect information.
Traveling can be stressful but if come prepared before going through customs, it won't be a painful experience that everyone warns you about. Going through US customs will not be miserable if you have a plan ahead of time and prepare for your customs interview. If things do start going south with your customs interview, be ready to call a US immigration lawyer or US immigration attorney to help you.
Do You Need Help Getting into the US Legally?
If so, Contact VisaPlace today. All our cases are handled by competent and experienced immigration professionals who are affiliated with VisaPlace. These professionals consist of lawyers, licensed paralegals and consultants who work for Niren and Associates an award winning immigration firm that adheres to the highest standards of client service.
Ready for the next step? Book your 1 on 1 consultation now or call us at 1-888-317-5770.
Have a Question related to your Immigration Needs?
Click here to fill out the FREE Immigration Assessment form below and get a response within 24 hours to see if you're eligible.
The assessment form should take approximately 5-7 minutes to complete. We will get back to you within one business day to let you know if we are able to help.