Ottawa is the capital of Canada, and the fourth largest city in the country. The city is located on the south bank of the Ottawa River in the eastern portion of Southern Ontario.
Ontario is the first point of entry for more immigrants than any other province, with 40% of newcomers landing in the province. Ottawa's current population of 870,250 represents a significant increase over the past decade. The city's growth rate is faster than Ontario's rate and Canada's rate as a whole.
Overlooking the Ottawa River, the Parliament Buildings (seen above in the photograph) are a majestic icon of the Canada's capital city, and visitors can tour the stunning interior. Throughout the year, the lawn in front of the building hosts a variety of festivals.
Meanwhile, the Rideau Canal is one of the oldest landmarks in Ottawa. The canal is filled with boats in the summer and becomes the "World's Longest Skating Rink" in the winter.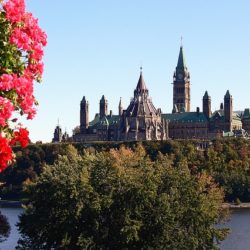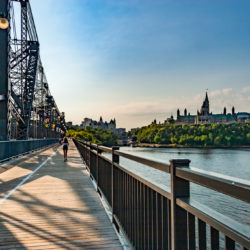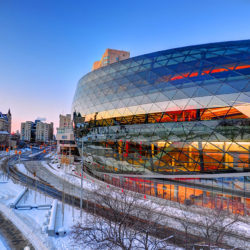 Ottawa is the Ideal Canadian City for New Immigrants
Thanks to a new two-year, $14.9-million province-wide program, new immigrants settling in Ottawa will have more access to services designed to help them fit in and find a job in their new country.  More than 80,000 new residents benefit from these settlement services, which represents a 15% increase in funding.
"Ontario's new government is investing in local programs, which help immigrants succeed and contribute to our economic growth. We all benefit when newcomers integrate into our local communities" – Liberal MPP Yasir Naqvi
Ontario Provincial Nominee Program Could Be Your Ticket
Ontario has recently streamlined the PNP — making a simpler, supported  path to their province for skilled immigrants. Improvements by the Ontario Provincial Nominee Program for Skilled Workers will help you and your family to quickly determine if you share the qualities that lead thousands of people from all over the world to successfully settle and make a new home in Mississauga.
Want An Assessment to Know If You Qualify to Migrate to Ottawa?
Our immigration attorneys have the knowledge to let you know if you will qualify to immigrate to Raleigh.  Getting an assessment is easy, just contact us here and book an appointment that is convenient for you.  We will ask you series of questions and will spend about 15-30 minutes in a virtual meeting to determine if this would be a good fit for you and your family.
How Our Immigration Lawyers Can Help
If you plan on migrating to Ottawa, ON, Canada, then you'll want an immigration lawyer who knows the ins and outs of Canadian immigration. Our firm has offices throughout North America, but our corporate office is in Toronto. Even though our main office is not located in Ottawa, if you watch the video above you will quickly see we are able to help anyone in the world immigrate to Canada.
Our immigration lawyers have over 30 years combined experience and have successfully processed thousands of Canadian visa applications.   We are fully confident we can help you with your immigration matter too!  You can get in touch with us here.
Once You Arrive in Ottawa​
​Once you arrive in Ontario and get settled in your new home, you'll want to do the following items:
When you work with our immigration law firm we make sure we provide you with all the resources you'll need to settle properly in your new country.   If you are interested in immigrating to Mississauga, be sure to  contact our law firm to get an assessment of your case with one of our immigration experts.