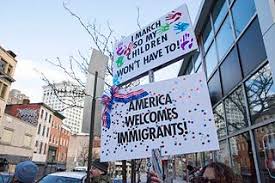 A great deal of debate has arisen over the proposed RAISE Act and "tougher visa vetting", and whether it would be helpful or harmful to America overall. The consensus seems to indicate the latter.
Economic Consequences
Senators Tom Cotton (R-AK) and David Perdue (R-GA), along with President Trump, have backed their proposal with the idea that immigrants drive down wages in low-skilled jobs due to increased competition. Therefore, Americans in those jobs are making less money than they should be. This claim, however, is not necessarily true, and economists say that halving legal immigration could actually be a detriment to the US economy. The issue, economist Jeremy Robbins of the New American Economy says, is not the skills-based system, as this system works well in countries like Canada and Australia. Rather, it is the fact that a skills-based system will be introduced alongside a 41% and then 50% reduction in the number of legal immigrants admitted. Canada and Australia already accept more than double the number of immigrants the US does per capita, and in reducing the number admitted, the US would fall short economically. If anything, economists are calling for an increase in immigration, as some business leaders face a shortage of workers.
Lack of Congressional Support
Trump, Cotton, and Perdue, however, will not be able to pass this bill without the support of Congress, and Senate minority leader Chuck Schumer has already declared it a "non-starter." Republican Senator Lindsey Graham (SC), a supporter of merit-based immigration, sees a reduction legal immigration as a threat to South Carolina's economy, whose top two industries are agriculture and tourism, respectively. Another supporter of merit-based immigration, Senator Ron Johnson (R-WI) is also wary of the bill, noting that some agricultural and manufacturing industries in Wisconsin are also struggling to fill job vacancies even without a cut to immigration. Without the support of Congress members who are advocates of a merit-based system, how much traction can this bill have?
Rise in Illegal Immigration?
Another criticism the proposal faces is the following: in significantly reducing the number of legal immigrants to the United States, they may cause illegal immigration to rise. Therefore the bill would be counterproductive to any efforts to curb illegal immigration. This bill takes away priority from family based immigration for extended family and adult relatives, which Senator Bob Menendez (D-NJ) claims is a step in the wrong direction. In 2014, about two-thirds of immigrants who obtained Green Cards did so based on family ties. Therefore, the US could potentially see a rise in illegal immigration where family reunification is a priority among those who are not spouses or minor children.
Will This Bill Pass?
The fact of the matter is, economists at large, along with many members of Congress, strongly oppose the cut to immigration. They agree almost universally on the detriments it would have to the economy, to policy, and to the foundation of American society. Historically, immigrants have sustained US economic growth, and this truth has remained consistent. If economists, business owners, and politicians alike all agree that this still holds true, then this bill may not have the strength to become law.